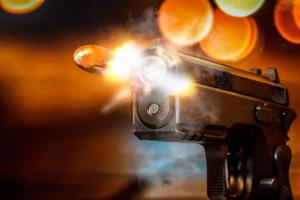 They Can & Here's How
Their ashes rest in an urn in my bedroom. My sister. My nephew…. He shot himself to death on Memorial Day 2017, and she followed suit on July 27. He was 42. She was 63. I try to put thoughts about them behind me. At times, it's quite painful, but at others, I feel nothing. However, I can't help but think about them right now. September is National Suicide Prevention Month, and this Sunday, Sept. 10, is National Suicide Prevention Day.
Could faith… religion… Christianity… have saved them? I don't know and never will.  Should our family have done anything differently to help them? Yes, but I don't know what it would have been. By 2017, my sister and my nephew seemed determined to end their lives, and the rest of us felt helpless, hopeless and angry. We had felt that way for several years.
My sister, in particular, pushed everyone away with all her might and then wondered why we avoided her. She wouldn't admit she had serious mental health problems and didn't want anyone interfering in her life. Coherent conversations with her were nearly impossible, though we could still have passable conversations with my nephew.
No one in the family dared to set foot on their property by 2017. Both of them suffered from depression, which was bad enough, but they also were paranoid. My sister was concerned about someone breaking into the house they shared, and the two of them held gun drills to discourage anyone from trying.
They were descending into their own versions of hell, and no one could seem to stop them.
Who's at Risk?
People commit suicide for various reasons, but at the core of such tragedies is a pain so great that they see death as their only option.
"People of all genders, ages, and ethnicities can be at risk for suicide," says the U.S. National Institute of Health (NIH). The institute lists several major risk factors but notes that most people who have risk factors don't attempt to kill themselves. The difficulty for people around them is determining who will act and who won't.
Risk factors include:
A history of suicide attempts
Depression and other mental health problems
Substance abuse
Chronic pain
A family history of mental health problems or substance abuse
A family history of suicide
Family violence including physical and sexual abuse
The presence of guns or other firearms in the house
Recent release from prison or jail
Direct or indirect exposure to suicidal behavior by family members or others
My sister had several risk factors. There was a history of suicide attempts, severe depression and other mental health problems, chronic pain from fibromyalgia and the presence of guns in the home. My nephew was severely crippled by cerebral palsy and was bedridden by the time he died. His disability, which created a great sense of guilt in his mother, caused constant physical and emotional pain, and he, too, lived in a home that he had filled with guns.
Some people with deep emotional problems turn to God, which my sister seemed to do, but my nephew became an atheist. I believe he decided that no loving God would subject a person to the unrelenting pain he suffered.
An Important Source of Help
All that said, faith communities can often help at-risk people who turn to God, and the Suicide Prevention Resource Center (SPRC) might be a good place for them to start.
"Faith communities are a natural setting for suicide prevention," the center says. "Spiritual beliefs and practices tend to help people experience hope and meaning in their lives. Faith communities can also provide opportunities for developing positive relationships with others and can be an important source of support during difficult times."
The SPRC, which is funded by the U.S. Department of Health and Human Services, advises "the best way to prevent suicide is to use a comprehensive approach" that:
Promotes emotional well-being and connectedness among members of a faith community
Identifies at-risk people and helps them find assistance for their problems
Prepares faith leaders to deal with suicide deaths and to provide support to the survivors.
The center offers "basic information to help faith community leaders recognize and respond to people who may be suicidal or at high risk… (including) a list of relevant resource material and organizations." Learn more by clicking here.
SPRC also supports the "Faith. Hope. Life." campaign and website, which the National Action Alliance for Suicide Prevention created "to help all faith communities become more closely involved in suicide prevention."
The website points out that "suicide is one of the leading causes of death in the United States" and says, "You and your faith community can play an important role in suicide prevention. Here are four specific actions for you to consider as part of the 'Faith. Hope. Life.' campaign.
"Know the facts. Learn more about suicide prevention and how faith communities can help.
"Pray and worship. Incorporate mental health promotion and suicide prevention into your daily work.
"Provide care and comfort. Find new ways to provide care and comfort to members of your faith community. Help lay caregivers… be sources of hope and strength for others.
"Build community. Increase positive connections that will protect members of your faith community from suicide" – and I might add that you shouldn't forget about others in your community who aren't members of your faith.
Click here to learn more. This website offers quite a few filters and links that will hopefully help Christian leaders better understand suicide and possibly save lives.
Warning Signs
Whether you are a faith leader or not, you should know the warning signs for suicide and take them seriously. The NIH lists these signs:
Talking about:
Wanting to die
Feelings of great guilt or shame
Being a burden to others
Feeling:
Empty, hopeless, trapped or having no reason to live
Extremely sad, more anxious, agitated, or full of rage
Unbearable emotional or physical pain
Changing behavior:
Making a plan or researching ways to die
Withdrawing from friends, saying goodbye, giving away important items, or making a will
Taking dangerous risks such as driving extremely fast
Displaying extreme mood swings
Eating or sleeping more or less
Using drugs or alcohol more often
"If these warning signs apply to you or someone you know, get help as soon as possible, particularly if the behavior is new or has increased recently," the NIH stresses.
In the U.S., call or otherwise contact:
911 for emergency help
The U.S. Suicide & Crisis Lifeline by calling or texting 988
Chat at 988lifeline.org
The Crisis Text Line by texting "Hello" to 741741
The NIH Suicide Prevention website by clicking here.
These resources, which are available 24/7, are free and confidential.
The Spanish language lifeline in the U.S. is 1-888-628-9454. U.S. veterans or service members in crisis may call 988 and press 1, or chat by clicking here.
National Suicide Prevention Day, Month
My family's tragedy was rooted in a doctor's decision to order numerous x-rays of my sister's abdomen more than 40 years ago. There was no large cyst or tumor, as the doctor claimed. But there was a small fetus, and the damage was done.
My nephew was born with cerebral palsy that prevented him from crawling the way most babies crawl or walking with ease. Movement was always a struggle for him, and it grew worse with time. My sister blamed herself from the moment his disability was diagnosed and lived with guilt for the rest of her life. The guilt destroyed her career, her family and her marriage.
Depression crippled my nephew, as it did my sister. She turned to prescription drugs to escape the pain, and thus the downward spiral began.
September is National Suicide Prevention Month and Sunday, Sept. 10 is National Suicide Prevention Day. It's a good time to reach out to any at-risk people in your life or seek professional help if you are feeling at-risk. And if you're a person who prays, pray as well.
For other perspectives on suicide and religion, check out Connor Brennan's post on Patheos, "Religious-Based Shaming Against Suicide Victims," here, or "Depression, Suicide, and Hope" by Kyle Roberts on Patheos here.