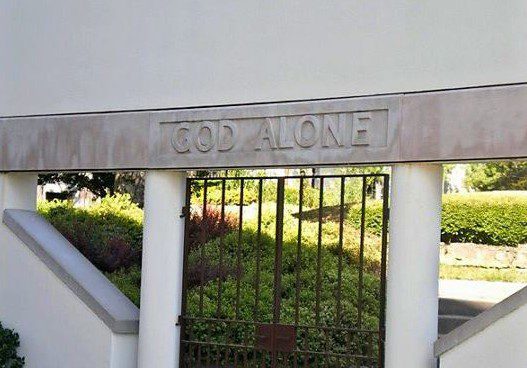 This post is a participation in the Patheos Book Club on Befriending Silence.
---
It's quite possible I heard the voice of Cistercians before I could walk; my mother was a devotee of the writings of Thomas Merton.   From childhood I heard of the virtues of silence, perseverance, humility, and contemplation that Carl McColman describes in this book (and at his blog).  And from that experience, I learned early that monks are not super-Christians, and the monastic calling is not one to a superior way of life: instead, it is a calling to pay attention to the holiness of the everyday by hallowing your work with prayer and your prayer with work.
McColman knows this; those interested in the intersection of faith and work should read pp. 125-126 of the book perhaps even before they read any of the rest of it. There he describes how St. Benedict, the founder of Western monasticism,  set forth the job description of the monastery's cellarer, the person in charge of its tools and supplies: "'He will regard all utensils and goods of the monastery as sacred vessels of the altar…' Even the lowliest and most unassuming of tools–shovels and hammers, hoes and brooms–should be handled in a spirit of reverence, just as a priest or deacon handles the chalice and paten used for the consecration of the Holy Eucharist. In this one simple sentence, Benedict undermined the human tendency to segregate the 'spiritual' and 'material' dimensions of life."
But reading the rest of the book is actually a good idea, because it's the most user-friendly description I've ever read of how lay people can appropriate the riches of Cistercian spirituality as laypeople. Its language is clear and everyday, its explanations graspable, and its coverage of topics that interest spiritual seekers is thorough. How can you express hospitality in your own life to those different from you? What does a vow of stability mean as you navigate modern career paths? What are some specific, concrete prayer practices you can use in your daily devotional time?  McColman covers all of this, with frequent probing questions to make you think about how incredibly relevant monastic practices actually are to modern life.
Is it a bit idealistic about monasticism? Sure. Do I hope that most of you, after reading it, will jump off into the deep contemplative sea and read some Thomas Merton? Absolutely. But should you start here? Yes.  (Some folks, as he notes, may even feel the call to become lay Cistercians. You can do this even if you're not Catholic as a way of giving yourself a spiritual rule of life. Check it out.)
As I've thought about what I could say about the book, besides wishing that I could hand a copy of it out to many folks I've worked with and encountered, I thought about the two times in my life I spent on spiritual retreat at Cistercian monasteries (here and here–the second is the monastery that Merton made famous).  Shortly after the second retreat–they were separated by about 8 years–I wrote about how experiencing Cistercian spirituality had changed me.  I'm almost 20 years past the moment when I first felt that change, described below. It's still changing me. I urge you to let it change you too; not to call you away from the world, but to draw you back to it, to encounter it from a centered and grounded place within yourself. (And no, I'm not as centered and grounded as I'd like to be yet myself. I'm on this journey, too.  But the water in the font is still the surest thing I know.)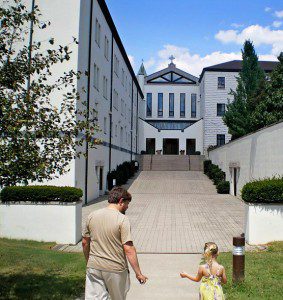 New Mellaray to Gethsemani: The Road to Joy
There will be two bells;
the first to say mass will soon be said,
the second to warn you
that prayers are starting.
[Abbey of Gethsemani, 1997]
…our own road to joy, which is mysteriously revealed to us without our exactly realizing it. (Thomas Merton)
All week long
I watched two students fall silently in love,
felt suddenly old,
prayed for a friend's dead mother,
read books on the Eucharist,
sat in a darkened church at three a.m.
and was too asleep to sing.
Eight years ago
I last attended vigils,
college student,
agnostic,
wild-minded,
hiding strange secrets under many words
and the stained skirt
I wore for three days in a row.
Sometimes all I find still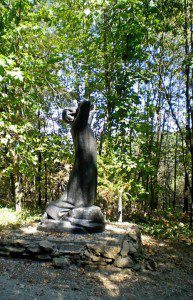 in the darkness
is darkness.
I could list
secrets accumulated
sins committed
words mistrusted
at least four commandments
that led me over a cliff
to the brink of a windowsill
and the bottom of a well
on the journey to the center of my soul.
Why was there any light at all?
Why did the grace I hardly asked for
with no gentle hand
grasp me from darkness
and pull me, screaming, into the light
blessed with a balm I could not understand
a sanctifying desire
I cannot bear?
So that here I sit,
even if the peace is only for tonight,
wrapped in a blanket,
drinking hot chocolate, listening to Strauss,
writing poetry.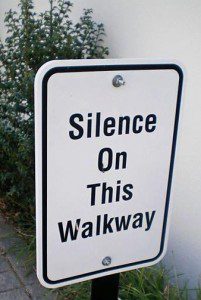 Wednesday night
I called my friend
told her I had said Mass for her mother.
We cried
talked of questions and orphans
and I held on to love
in a hot phone booth.
And all week long
I was making arguments
for the truth of God
to a man who could not hear me
whose face followed me at every turn
who might love me
if I let him
who does not yet know the name of grace.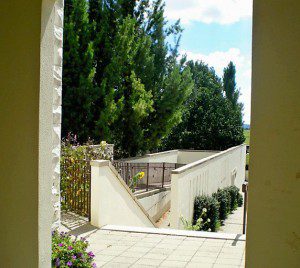 Tomorrow I will say Vigils again
then Lauds at daybreak
go to Mass
take blood and body
and drive back into a world
I cannot even
(as Merton did)
pretend to leave.
When I did not expect sense
things were much easier.
Now tears surprise me at every turn
and water in the font is the surest thing I know,
and there are no answers
and deep in the vigil night
the presence candle burns alone.
The monks are asleep
the night air cool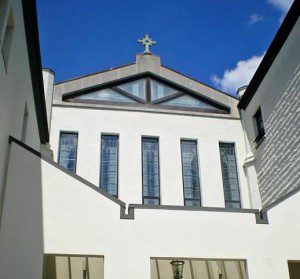 where the student lovers
are out kissing the stars.
And I write love letters in my mind
to the dead
and the living.
Lord, I believe; help thou my unbelief.
There will be two bells;
the first has rung already.
The second comes in surprising nighttime
to wake the living and the dead
to wash the tears away
and over the mountains
alarming day comes in glory.
---
I took the photos in this post on a visit to Gethsemani in 2011.