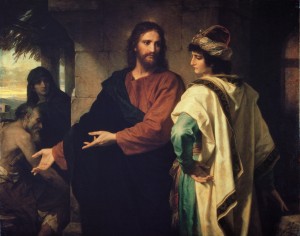 One week down, and 6 weeks to go before Pentecost. I'm still exploring Jesus in mainstream culture through song. Last week, I took us from the late 1960's up until the early 1980's.
This week, I dip back into the 1970's briefly before vaulting back up into the Eighties and Nineties again before getting a toehold in the 2000's. And all of these songs are well known and I would wager that most of you remember them.

First up is one of my favorite classic rock tunes that I forgot to share last week. See? There are more songs that reference Our Lord in the mainstream than even I can keep track of!
ZZ Top (1973), Jesus Just Left Chicago. From their album, Tres Hombres, I forgot this one from the 1970's last week. I always liked this song too. The idea of Jesus riding a bus from Chicago to New Orleans is cool, not to mention realistic. And with beards like these, the band might be mistaken for monks from Mt. Athos (smile).
John Cougar Mellencamp (1985), Small Town. What can I say? I like small towns, especially when I was "taught to fear Jesus, in this small town…"
Mr. Mister (1985) Kyrie Eleison A reader suggested this one. What ever happened to these guys? They had a monster hit album in 1985 and then…poof! I didn't even know that this meant "Lord, have mercy" until I became a Catholic—but I always liked this song. Hey, lookee! A live performance,
U2
(1987),
When Love Comes to Town.
Remember what I said about U2 last week? They're an undercover gospel band. This is from their live album
Rattle and Hum
released in 1988. Performed the first time in 1987 with special guest, and blues legend, B.B. King.
I was there when they crucified my Lord
I held the scabbard when the soldier drew his sword
I threw the dice when they pierced his side
But I've seen love conquer the great divide
Lenny Kravitz (1993), Are You Gonna Go My Way. Lenny Kravitz singing as Christ. See if you can see any resemblance. The original video has imagery to help, but it can't be embedded here. But live is better anyway.
I was born long ago
I am the chosen, I'm the one
I have come to save the day
And I won't leave until I'm done
Carrie Underwood (2005), Jesus Take the Wheel. I never watch American Idol, because I live under a rock. But I can get twangy with the best of 'em, and this is one of the best I've heard in a while.
Jesus, take the wheel
Take it from my hands
Cause I can't do this on my own
I wonder what I'll dig up next week? Maybe I'll head back to the Enlightenment era to see what I can find. See you here next week.