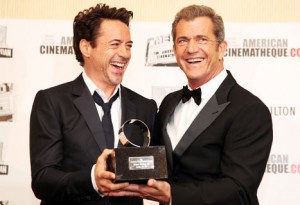 This past Friday, in the spirit of Christ's forgiveness of the adulteress when she was presented to him by the holier than thou, a remarkably similar story has come to my attention from an area that I usually steer clear of: the shoals of Hollywood. And yet this is where a stunningly familiar event took place.
This news is all over the wires from Celebrity Gossip GHQ centered in LaLa Land. US Magazine, The Hollywood Reporter, The Huffington Post, etc., etc., have all run versions of this story. Even Forbes(!) is reporting on it. You probably heard this already because, yes, I'm always the last one to know. The setting? The 25th Annual American Cinematheque Award. What's that? It's a token given to, "an extraordinary artist in the entertainment industry who is fully engaged in his or her work and is committed to making a significant contribution to the art of the motion pictures." Why should you care? Entertainment Weekly's, Grady Smith has the scoop,
Last night at the 25th Annual American Cinematheque Award Ceremony, which was honoring Robert Downey Jr., the Iron Man actor asked Hollywood to forgive Mel Gibson.

Gibson was invited onstage to present Downey Jr. with the prestigious award, since, in the words of Garry Shandling, "The Cinematheque was concerned a bit about Robert's checkered past, so they chose someone to present the award who could help balance that out and the choice was so obvious, Mel Gibson."
I know what you're thinking. What a load of hooey. Balance?! As if Mel Gibson has a leg to stand on in this department. Don't you know that his fall from grace since The Passion of the Christ has been nothing short of catastrophic, Frank? Yes, I know. Which is what makes this a Paul Harvey-esque "The Rest of the Story" vignette. Let's get back to it,
Gibson spoke kindly of the star, who he famously helped to make a comeback by paying Downey Jr.'s insurance bond so he could star in 2003′s The Singing Detective. "You are my friend," Gibson said. "When I saw you all those years ago and got all those warnings, I just thought, 'There's nothing so much wrong with him.'" Gibson explained, "You're a good dude with a good heart."
I wonder where Mel learned Christian charity like this? I can think of a parable, or two. Take a deep breath folks, and remember the admonition, "harden not your hearts."
During Downey Jr.'s acceptance speech, he had even kinder words for Gibson. "I asked Mel to present this award for me for a reason," he said. "When I couldn't get sober, he told me not to give up hope and encouraged me to find my faith. It didn't have to be his or anyone else's as long as it was rooted in forgiveness. And I couldn't get hired, so he cast me in the lead of a movie that was actually developed for him. He kept a roof over my head and food on the table and most importantly he said if I accepted responsibility for my wrongdoing and embraced that part of my soul that was ugly – hugging the cactus he calls it — he said that if I hugged the cactus long enough, I'd become a man."
I'm thinking that by this time, the crowd is stunned in hushed silence as they witnessed this rare, and grace filled, moment. Sort of like "shock and awe," but in a good way. A Holy Spirit filled way; a way that desires us to soften our hearts and to treat others the way we want to be treated. As the hushed crowd looked on in amazement,
He continued, "I did and it worked. All he asked in return was that someday I help the next guy in some small way. It's reasonable to assume, at the time, he didn't imagine the next guy would be him or that someday was tonight. So anyway on this special occasion and in light of the recent holidays including Columbus Day, I would ask that you join me, unless you are completely without sin in which case you picked the wrong f—ing industry, in forgiving my friend his trespasses and offering him the same clean slate you gave me, allowing him to continue his great and ongoing contribution to our collective art without shame. He's hugged the cactus long enough."

The crowd in the room applauded vigorously, as Gibson appeared to tear up a bit.
As Our Lord said, "Go and learn the meaning of the words, 'I desire mercy, not sacrifice.' I did not come to call the righteous but sinners" (Matthew 9:13). I wonder how many heard "the call" that night because of the unexpected speech of one sinner on behalf of another? If even one soul is prompted to seek redemption, not just from mankind, but from the Creator, then this little footnote in forgettable celebrity history would be nothing short of miraculous.
That's how I see it, anyway.
Update:
Thomas Peters writes: God calls everyone, even the broken heroes of Hollywood.