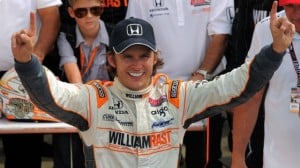 Sad news out of Las Vegas, Nevada today. Dan Wheldon, 33 years old, was killed in a fiery crash that involved 15 other cars at the Las Vegas Motor Speedway earlier this afternoon. Join me is saying a prayer for his soul and for his loved ones who have lost a cherished family member, husband, and father.
As long time readers of this blog know, I'm an auto racing enthusiast of sorts. During the running of the most recent 24 Hours at LeMans, I showed you a miracle. And a month before that, during the 100th running of the Indianapolis 500, I posted on the goings on of that, the greatest, most legendary auto race of all time. I called it the Gearhead Feast Day. Dan Wheldon, who was feted as the Rookie of the Year in 2003, won the Indy 500 twice in his career.  The first time was in 2005, the same year when he was also the points Champion of the Series.  The second time was just this past year, in an amazing finish.
I've already seen a few provocative posts that ask questions like "is it time to ban this 'sport'," etc. To which I answer in this way: Dan was a gifted race car driver. You or I could not do what he did. This was his calling, and he was extremely good at it. Yes, motor racing is dangerous, but so are a lot of other sports, and a lot of other occupations.
Imagine telling Kobe Bryant that he couldn't play basketball because it was too dangerous. Too far fetched? Okay then, tell Tim Tebow that football is too dangerous so you can't pursue your dream now because too many people get hurt at this game. But back to autoracing, consider these words that Oscar winning actor Paul Newman said about his love for automobile racing. You did know that Paul Newman was an outstanding race car driver, didn't you?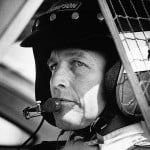 His ability to drive a race car, and drive it very well, was discovered when he was making the film, Winning, in 1969. Here's what he said about the discovery. It was, "the first thing that I ever found I had any grace in." The same can be said for many who have died practicing their callings.
For example, I have a friend who tried to run away from his calling to be a helicopter pilot in the Army. He left Active Duty, went to law school, became a police Captain, and then became a prosecutor for the District Attorney's office in his town. He even became a Judge Advocate General, or JAG, in the Reserves. But sort of how Jonah couldn't run away from going to Ninevah, my friend couldn't run away from his gifts, and his passion to use them.
So he gave up his commission and left off being a JAG, so he could fly choppers again as a Chief Warrant officer in the Reserves. And his civilian job? Now, he's the pilot of a medevac helicopter, the kind that whisked Dan Weldon to the hospital today, and me to the hospital back in 2001. My friend was born to be a pilot, see?
Well, Dan Wheldon was born to be a race car driver. His vocation resulted in the loss of his life today, and at an early age ( the same age that Our Lord and Savior lost his life), but something tells me that Dan Wheldon wouldn't have had this transpire any other way.
So join me in saying a simple prayer for his soul, and for the comfort of his loved ones, and team members who he has left behind. Requescat in pace, Dan. And hey kid…you were good.