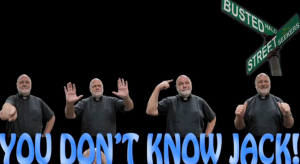 Well, I don't actually know him, but I met him today. Who am I talking about? Father Jack Collins, CSP of course. Old hands around here know that during my lunch hour, I usually go to Mass at the parish located downtown about a 10 minute walk from my office.
Last week, see, there were these little flyers in the pews alerting the faithful about the upcoming parish mission, who the visiting Paulist priest was, etc. I looked it over, but I admit that I didn't think much more about it. Not my parish, right?
Well today I remembered it, because once you've seen Fr. Jack, you're not likely to forget him. How had I seen him before? Well, when he's not doing the most important part of his vocation, providing the Sacraments, preaching at parish missions around the country, and such, he works for Busted Halo making videos of "man in the street" interviews, sort of like how Jay Leno does in his Jaywalking pieces on The Tonight Show. Remember those? Check this one out on religion questions from last year,
http://www.youtube.com/watch?v=SSdbHXjHtX0
Have mercy!
Fr. Jack goes around the streets of New York City, asking similar questions of folks about Catholic topics. He gets similar replies to Mr. Leno, for sure. But the difference is, he also teaches about the topic during the questioning, thereby spreading the Good News, in a light hearted way.
After Mass, I told him I really enjoyed his You Don't Know Jack About the Assumption video.
He seemed surprised, and delighted. He also told me to stay tuned, because next week, a new installment will hit the digital airwaves with You Don't Know Jack About the Immaculate Conception.
Since Halloween is coming up, here's a spot he did last year titled…guess what?
I'm looking forward to the new one due out next week. I'll share it with you when it is released. Fr. Jack will be saying Mass at my weekday parish tomorrow afternoon as well, and I wonder if he will read to us about the Saint of the Day from his i-Phone, like he did today.
See? You didn't know that about Fr. Jack!