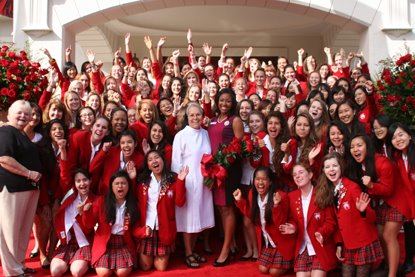 Sister Celeste Marie Botellop, Principal of Flintridge Sacred Heart Academy standing with the 2012 Rose Queen, Drew Washington and Flintridge Sacred Heart Academy students at Tournament House. The Pasadena Tournament of Roses named Drew Helen Washington as the 94th Rose Queen today at the Tournament House Tuesday, October 18, 2011.
Rose Queen Drew Washington, 16, is a student at Flintridge Sacred heart Academy. The announcement concludes a month-long process that began with approximately, 1,000 Paadena-area young women who participated in the Tournament of Roses Royal Court Tryouts. (SGVN/Staff Photo by Walt Mancini/SXCity)
Congratulations Drew! Way to represent! Read the story, from my adopted home town on the West Coast, over at the Pasadena Star-News.