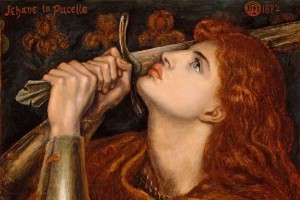 The other day, during my commute home from work, I heard a catchy tune that mentioned St. Joan of Arc (the patroness of this blog) in the lyrics. I thought to myself, I should put that in the next MfM post. Then a friend posted another song about Joan on her Facebook page yesterday and I got to work in earnest.
None of the selections below are classical pieces. None are from musicals or operas. They aren't all successful pop songs, though they are all relatively new. What they do is prove our fascination with this young, brave, and heroically faithful, saint.
On this blog there are Novenas imploring the help of Joan, movie posts about Joan, heck Webster was even writing about the TV show Joan of Arcadia here for a while. But this is the first music post written around Joan and you know what? It might have to be a two or three part series because there is that much material. Dialing back the waay back machine to the year 1970, I can just get us into the 21st Century with today's post.
Here we go, with minimal liner notes.
Jennifer Warnes & Leonard Cohen (1970), Joan of Arc. This is the tune that seemingly started the modern homage to our favorite Warrior Saint. And this is the one my friend shared on her Facebook wall. You'll recognize the slew of movies and great portraits Western culture has toasted our intercessor with in this video. I don't think they missed anything.
Orchestral Manoeuvres in the Dark (1981), Joan of Arc. Fast forward a little bit to the quintessential (read "very") Eighties band, with a danceable sound. Where have these guys gone?
OMD
(1981 Again!),
Maid of Orleans
. Do you think the fellows dig Joan as much as I do? Two, count 'em, TWO songs about her on the same album. Joan will do that to you.
The Smiths (1986), Bigmouth Strikes Again. Unlike the previous two selections, I remember this one well. They were playing this tune on KROQ all the time in the late 80's. Morrisey just might have felt like Joan, but I kinda doubt it.
http://www.youtube.com/watch?v=FgxEJOi6GtA
Tal Bachman (1999), She's So High. This is the tune I heard on my commute the other day. Sure, Tal waters down the sentiment by adding Cleopatra and Aphrodite into the mix. But the only person I hear him singing about here is Joan.
Elton John & Bernie Taupin (2002), Did Anybody Sleep with Joan of Arc. Don't go getting your knickers in a wad. Elton and Bernie are just wondering, but they know that she didn't. This was an unheard "B" side from This Train Don't Stop Anymore. Who knew?
Gregorian – Masters Of Chant Chapter IV, Maid of Orleans. OK, this is a repeat of the OMD tune, but done as a kind of modern Gregorian chant. Have fun with it.
And there you have it folks. Everybody loves St. Joan! see you next week.