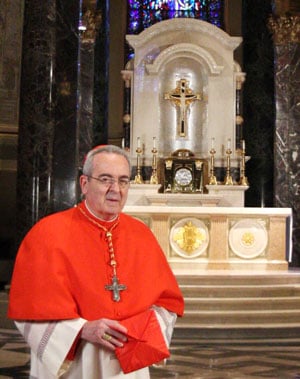 Forgiveness is the message that is often forgotten on this day of the celebration of the Incarnation of the Creator of all that is visible and invisible. After all, the Messiah explained it to the priest Nicodemus and to us, in the third chapter of John's gospel,
For God so loved the world, as to give his only begotten Son; that whosoever believeth in him, may not perish, but may have life everlasting. For God sent not his Son into the world, to judge the world, but that the world may be saved by him.

He that believeth in him is not judged. But he that doth not believe, is already judged: because he believeth not in the name of the only begotten Son of God. And this is the judgment: because the light is come into the world, and men loved darkness rather than the light: for their works were evil.

For every one that doth evil hateth the light, and cometh not to the light, that his works may not be reproved. But he that doth truth, cometh to the light, that his works may be made manifest, because they are done in God.
I am reminded of this passage by way of an interview that aired this Christmas morning on a radio station where I live. My friend Frank Murphy, who hosts a popular radio show in my area, and is a fellow parishioner at All Saints in my town, interviewed a new neighbor of mine, Cardinal Justin Rigali. Back on October, see, Cardinal Rigali retired to East Tennessee, and the Diocese of Knoxville, at the invitation of his friend and colleague, Bishop Richard Stika.
In the link below, Frank (running joke whenever we're together is: I point to him and say "he's the famous Frank; just call me Ismael, or we'll both answer you."), interviews Cardinal Rigali about the miracle of the Incarnation; Blessed John Paul II's forgiveness of his would-be assassin; forgiveness as our Christian vocation; and even of the rights of all humankind, as enumerated in the Declaration of INdependence and our nations' Constitution.
Thankfully, the famous Frank recorded the interview as a podcast, and I recommend this as a great way to spend a half hour today, or any other day, as you contemplate the mystery of the Incarnation.