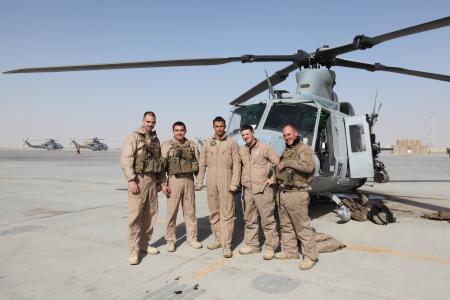 This, in a nutshell, is why I became a Marine.
"It's a reminder of why we became Marines in the first place. So that our family and friends are able to celebrate the holidays – freely. It makes us happy to know they can, even if we are all the way out here in Kandahar, Afghanistan, away from our loved ones."

—Gunnery Sergeant Charles V. Westall, USMC
From Operation Noel: Marine helicopters spread Christmas spirit in Afghanistan. Story and photographs by Staff Sergeant Christopher Flurry, USMC
On a typical day, pilots like Barnes use their helicopters to provide close-air support for infantry Marines. The Marine Corps relies on Hueys and AH-1W Super Cobra attack helicopters to provide a watchful eye for the Marines patrolling through southwestern Afghanistan's villages and farms.

On Dec. 25, however, the Marine aviators' mission was different. Dubbed "Operation Noel," the Marine Corps Hueys lifted thousands of pounds of Christmas spirit – items like socks and toiletries, as well as letters, cards and even candy – to the grunts who call these small outposts home.

"The Marines are excited to be supporting our brothers and sisters [in the Marine Corps] in a very different way than we normally do," said Barnes. "It's a big privilege to be able to do a mission like this that's outside the realm of normal."

Lance Cpl. Andrew Harris is a UH-1Y Huey crew chief with the light attack helicopter squadron. Harris, nicknamed 'the best door-gunner in the Marine Corps' by his fellow Marines, flew with Barnes on the Christmas Day mission.

"I think it's really cool, we're trying to boost morale," said Harris. "We're trying to keep the family of the Marine Corps together, especially during the holidays."

"It's still Afghanistan. We still have to be prepared for the threat. That being said, it happens to be the 25th of December," said Barnes. "It's about spending Christmas with your family – your Marine Corps family."
Go read the rest
, say a prayer for the safety of our troops, and pray that this war ends soon.
Semper Fidelis