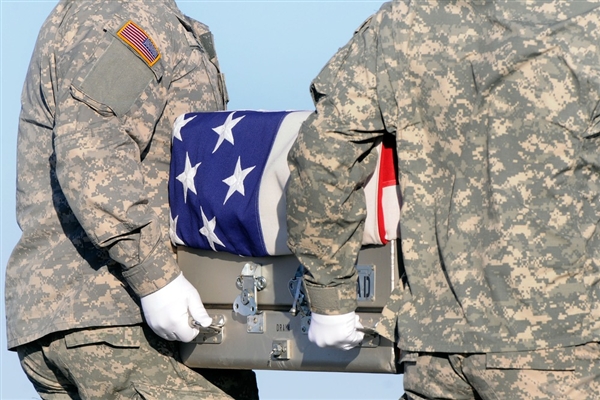 You just thrown their dead bodies away. And then when you are discovered, and your feet are held to the fire, you complain that it would take a "monumental effort" to do our war dead justice. Yes, our dead troops who out of one side of our mouths we act as though they are holy and sacred, while with our actions we shun, ignore, and toss them into a landfill in Virginia.
The Washington Post has the sad, unbelievable, story.
Air Force Dumped Ashes of More Troops' Remains in Va. Landfill Than Acknowledged

By Craig Whitlock and Mary Pat Flaherty, Published: December 7

The Air Force dumped the incinerated partial remains of at least 274 American troops in a Virginia landfill, far more than the military had acknowledged, before halting the secretive practice three years ago, records show.

The landfill dumping was concealed from families who had authorized the military to dispose of the remains in a dignified and respectful manner, Air Force officials said. There are no plans, they said, to alert those families now.

The Air Force had maintained that it could not estimate how many troops might have had their remains sent to a landfill. The practice was revealed last month by The Washington Post, which was able to document a single case of a soldier whose partial remains were sent to the King George County landfill in Virginia. The new data, for the first time, show the scope of what has become an embarrassing episode for vaunted Dover Air Base, the main port of entry for America's war dead.

The landfill disposals were never formally authorized under military policies or regulations. They also were not disclosed to senior Pentagon officials who conducted a high-level review of cremation policies at the Dover mortuary in 2008, records show.

Air Force and Pentagon officials said last month that determining how many remains went to the landfill would require searching through the records of more than 6,300 troops whose remains have passed through the mortuary since 2001.

"It would require a massive effort and time to recall records and research individually," Jo Ann Rooney, the Pentagon's acting undersecretary for personnel, wrote in a Nov. 22 letter to Rep. Rush D. Holt (D-N.J.).

Holt, who has pressed the Pentagon for answers on behalf of a constituent whose husband was killed in Iraq, accused the Air Force and Defense Department of hiding the truth.

"What the hell?" Holt said in a phone interview. "We spent millions, tens of millions, to find any trace of soldiers killed, and they're concerned about a 'massive' effort to go back and pull out the files and find out how many soldiers were disrespected this way?" He added: "They just don't want to ask questions or look very hard."
Go read the whole piece. Give 'em hell, Congressman Holt. And Jo Ann? Before I accept your resignation, get your little rubber gloves and booties on and head to the landfill.
Another thing to wonder about is the families of these disgraced dead. Where were they? Why would they let the government handle disposal of their loved ones in the manner that, say, folks let the veterinarian dispose of the remains of the family dog or cat? Again, and this is my speculation, we have lost the sense that the human being, body and soul, has dignity.
Our modern idea that it doesn't matter what happens to one's body after death is a function of the Gnostic heresies once again welling up among our "I can twist my Christian faith to suit my own purposes" brethren. Or of those who have no faith and figure it just doesn't matter.
Bravo Zulu to the Washington Post and Congressman Holt for standing up for the rights of veterans. Hats off to the whistleblower(s) at Dover Air Force Base, whose consciences screamed like
Thus says the LORD:
In Ramah is heard the sound of sobbing,
bitter weeping!
Rachel mourns for her children,
she refuses to be consoled
for her children—they are no more!
If the Pentagon really wants to atone for their error, and I know they do, stop crying about how much money it will cost to honor our fallen appropriately and do them justice. Something else to consider would be to send a phalanx of Catholic priests over to the landfill to consecrate that ground as well.
Semper Fidelis (and all this implies)
UPDATE: Quick, somebody pass me a poem!
*Image Credit: Steve Ruark/AP