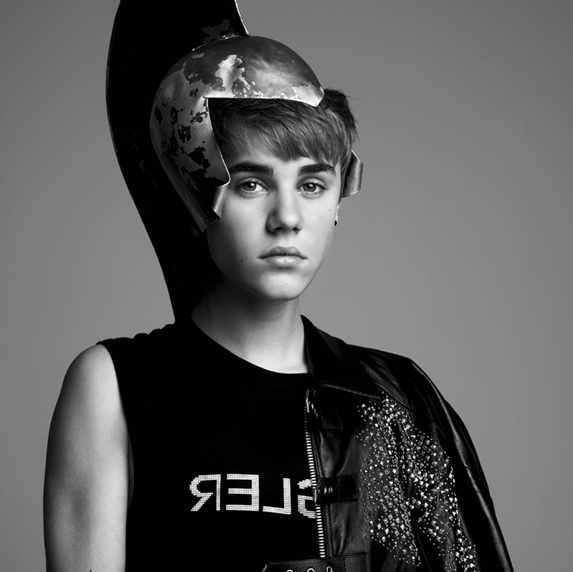 On the heels of the faith affirming appearance of Mark Walhlberg on yesterday's CBS This Morning show, where he talked of prayer, and the New Translation of the Mass, etc., here is another celebrity Christian whose breaking-news faith story is not as satisfying.
Justin Bieber, the soon to be 18 year old pop music phenom, just had an interview published in V Magazine, where he made the statement you see in the title above. And the photograph above, which accompanied it, makes me worry for this young man too. There is deep sadness shining in those eyes. That is the look of someone who has been robbed of his innocence.
Interviewed by a fellow named Elliot David, here is the part which prompted this post,
ED You're working so hard. As you said, this consumes your life. So what do you look to for strength? I know you are religious, right?

JB I don't think I'm religious. I am spiritual. I believe that Jesus died on the cross for my sins. I believe that he put me in this position, and that I have to always give him the glory he deserves for putting me here. But I don't consider myself religious. A lot of people who are religious, I feel like they get lost. They go to church just to go to church. I am not trying to disrespect them at all, you know, whatever works for you; but for me, I focus more on praying and talking to Him. I don't have to go to church. I haven't been to church in a long time, but I know I have a relationship with Him. People can be like, "If you don't go to church, what do you mean, how are you a Christian?" But I am. I talk to Him, and that's all.

ED I read that your mom said she had a personal encounter with God, and she believes you are here to inspire and brighten the world. When you talk to Him, do you feel like you have a personal encounter, or are you just expressing how you feel?

JB You know, my ma has always had God around me, has always made it really apparent. She never pushed it on me, but she always brought me to church and she put me in Sunday school. When I was little, I did these things: "prophetic words," which is sort of like fortune-telling, but from God. They said in one of those tapes—when I was really young—that I was going to be the voice of the new generation. So, I don't know what that means. It could just mean that I'm here to make music and inspire people. That's all I know. I just want to be able to be a good influence on people. I know I'm going to make mistakes, because I'm young and I still love to have fun. I'm not perfect. I think everyone makes mistakes, and that's what life's about, you know?
That's the highlight, or the low point, depending on your point of view. Go read the entire interview, if you care to.
Truthfully, reading it in its entirety was a test of my patience. That's because I generally steer clear of this sort of stuff unless it falls right into my lap. But that's exactly what happened here, as this came to my attention through Cathleen Falsani's post on Facebook. Falsani wrote a book about young Justin, and she was gushing about this interview, see, so I took a look.
Of course, there may have been a wee bit of fanning the "fanboy" fire in order to boost book sales behind her enthusiasm too. But writers have to eat, and my children like JB, at least my two youngest say they do. So I held my nose and dove in. Thankfully, it is pretty short.
The first thing that popped into my head was, "whoa…this kid needs some friends like Marc Barnes, the Patheos Catholic Portal's own 18 year old wunderkind." My second thought was remembering how I was myself at Beiber's age, and how I was about to embark on my own "unchurched" loop behind the dark side of the moon at his age. Thanks be to God, I survived the ordeal, just as Mark Wahlberg, and maybe even you, dear reader, did.
The third thing I thought of was to pray a prayer for this young man, just like I pray for my own children. That the Lord bless and keep him, and that JB hears Our Lord's call and remembers that Christ isn't just spiritual, but is also physically and mysteriously present in a place that JB hasn't frequented lately, and in the Sacraments, which he is not partaking of regularly. And that he remembers what the Holy Spirit himself said through the words he inspired St. John to write for us all,
For the love of God is this, that we keep his commandments. And his commandments are not burdensome, for whoever is begotten by God conquers the world.
Amen.
And lookee here: Mark Wahlberg will be teaming up with JB in a movie? Nice!
Update: JB's biographer Cathleen Falsani, who also blogs at The Dude Abides, writes,
Hey Frank,

Thanks for the blog post just now about Justin and his faith.

I don't believe Justin has ever claimed to be a Catholic, lapsed, cradle, cultural or otherwise. His mother raised him in a nondenominational Protestant church. Some of the confusion over his would-be Catholic status comes from the fact that he attended a Catholic French-language grammar school – Jeanne Sauvé in Stratford, but my understanding is that his enrollment there had more to do with the French immersion than than Catholicism. Just wanted to be sure you were aware.

All best and thanks for what you do,
Cathleen
Thanks for the heads-up Cathleen!
UPDATE II: Webster Bull says: "Spirituality is something for adolescents who want freedom; religion is for adults who are willing to be bound fast."
Image Credit: Inez & Vinoodh