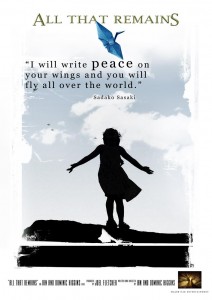 Just a quick note at the beginning of the day to say thanks to everyone who has donated to help make the film All That Remains. A Phase 3 funding drive is happening now, and I see $315 sitting in the kitty ==>> as of now, with 41 days to go. Have you check out the new All That Remains website yet? Head on over there. While you're strolling around with your mouse, buy a t-shirt, coffee mug, or mouse pad at the Store.
I think it's safe to say that since
first posting about this project
back in August, YIMCatholic readers have given over $5,000 to help get this film made. Your generosity is what allowed Ian Higgins and his crew the ability to fly to Nagasaki back on Thanksgiving. Your continuing support and prayers are appreciated.
This last campaign is the big push in order to pay the cast of actors so the drama sequences can put the finishing touches on this compelling story. Thanks again for all your help.
P.S. Please like and share the film's Facebook page too.