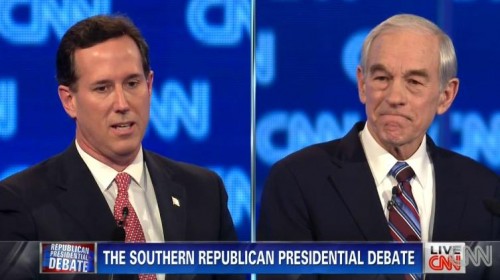 Editors' Note: This is seriously old news. Vote for either Thing 1 or Thing 2.
—The Cat in the Hat.
He also gives Ron Paul the nod over Mitt Romney or Newt Gingrich. Who is Tom Woods, and why should you care? Sure, I'm always the last one to know, but he has a resume that is half a mile deep and two miles wide. Here's a taste,
Thomas E. Woods, Jr., is a senior fellow of the Ludwig von Mises Institute. He holds a bachelor's degree in history from Harvard and his master's, M.Phil., and Ph.D. from Columbia University. He is the author of eleven books, most recently Rollback: Repealing Big Government Before the Coming Fiscal Collapse and Nullification: How to Resist Federal Tyranny in the 21st Century. His other books include the New York Times bestsellers Meltdown: A Free-Market Look at Why the Stock Market Collapsed, the Economy Tanked, and Government Bailouts Will Make Things Worse and The Politically Incorrect Guide to American History, as well as Who Killed the Constitution? The Fate of American Liberty from World War I to George W. Bush (with Kevin R.C. Gutzman), Sacred Then and Sacred Now: The Return of the Old Latin Mass, 33 Questions About American History You're Not Supposed to Ask, How the Catholic Church Built Western Civilization, and The Church and the Market: A Catholic Defense of the Free Economy. His critically acclaimed 2004 book The Church Confronts Modernity was recently released in paperback by Columbia University Press.
And there is more, much more. He has over 17,300 Facebook likes? Yes, I live under a rock. So, you see, I'm glad he made a little video that folks like us might want to have a look at.
Below he outlines why he supports Ron Paul, and why other Catholics, and small "c" catholics too, should consider voting for him as well. Roll clip.
I've already stated that if Ron Paul is on the ballot come Super Tuesday in the primary in my state, he'll be getting my vote. And basically for the same reasons that Dr. Woods outlines above.
Sure, you've been told that Ron Paul is crazy, a menace to society, etc. Maybe you've even been told that libertarianism is "incompatible" with Catholicism, which it would be if it were operating in a vacuum. But in our system, a) it's not and b) beating a hasty retreat from the Police State is what you could expect from a Ron Paul presidency. Because the thing is, the pendulum of the single party of the Republicrats and Demoblicans, what with their undeclared wars, dictatorial police-state like power grabs, and propensity to enrich themselves while the rest of us suffer and die, has swung too far. Have you heard the other candidates in the debates? They're all for the Patriot Act, continuing with the policy of undeclared wars, etc.
Ron Paul may be a libertarian, but the government of our nation is a republican form of government, not a libertarian one. Or you can continue to fool yourself that this time it's different, and doing the same thing and expecting different results isn't insane. Good luck with that. For those of you who believe that, here's a poster just for you, though I think the saying shouldn't be "NeoConservatism" but "Americanism" instead.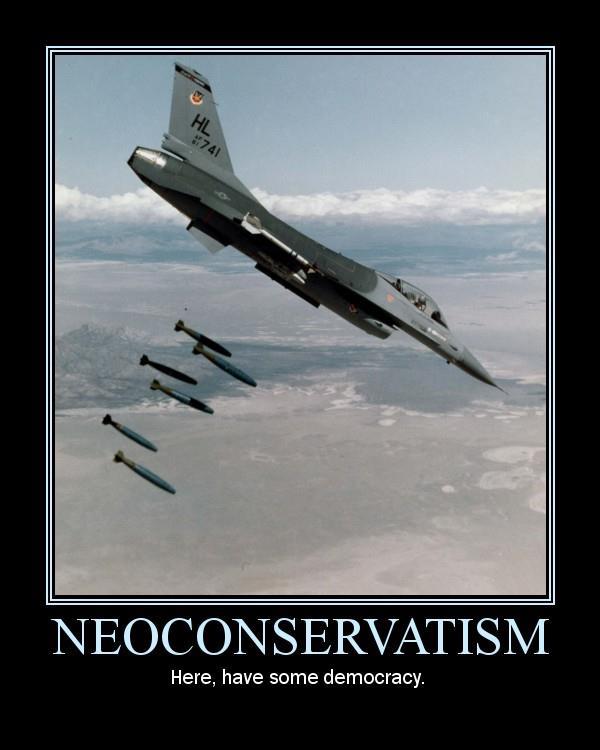 I'll even throw in a soundtrack at no additional charge.