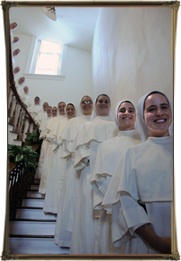 Nothing tells your children that you believe in the power of prayer more than praying the rosary with them. And nothing tells them how powerful you think prayer is than praying a novena and the rosary every evening after dinner.
That is what my family and I have been doing since we hoped on board the novena prayer that the Dominican Sisters in Nashville kicked off back on Saturday. I rallied my three children around and told them to bring their i-Pods so they can bookmark this site so we can all recite the following prayer before digging into the Sacred Mysteries,
The Dominican Sisters of St. Cecilia Congregation invite you to join us in a novena of prayer February 11-19, 2012
Act of Consecration of the United States to the Immaculate Heart of Mary

Most Holy Trinity: Our Father in heaven, who chose Mary as the fairest of your daughters; Holy Spirit, who chose Mary as your spouse; God the Son, who chose Mary as your Mother; in union with Mary, we adore your majesty and acknowledge your supreme, eternal dominion and authority.

Most Holy Trinity, we put the United States of America into the hands of Mary Immaculate in order that she may present the country to you. Through her we wish to thank you for the great resources of this land and for the freedom, which has been its heritage. Through the intercession of Mary, have mercy on the Catholic Church in America. Grant us peace. Have mercy on our president and on all the officers of our government. Grant us a fruitful economy born of justice and charity. Have mercy on capital and industry and labor. Protect the family life of the nation. Guard the precious gift of many religious vocations. Through the intercession of our Mother, have mercy on the sick, the poor, the tempted, sinners – on all who are in need.

Mary, Immaculate Virgin, our Mother, Patroness of our land, we praise you and honor you and give our country and ourselves to your sorrowful and Immaculate Heart. O Sorrowful and Immaculate Heart of Mary, pierced by the sword of sorrow prophesied by Simeon, save us from degeneration, disaster and war. Protect us from all harm. O Sorrowful and Immaculate Heart of Mary, you who bore the sufferings of your Son in the depths of your heart, be our advocate. Pray for us, that acting always according to your will and the will of your divine Son, we may live and die pleasing to God.

Amen.

Imprimatur, Patrick Cardinal O'Boyle, Archbishop of Washington, 1959, for public consecration of the United States to the Immaculate Heart of Mary; renewed by U.S. Bishops, November 11, 2006
It's the first time we've used digital devices together to pray as a family, but it probably won't be the last. As a side note, if your children have internet capable i-Pods, you may want to buy the
Mobicip safe browser
application for their devices. It works like a champ.
Anyhow, it's never too late to join with folks in prayer, so don't be shy. Hop aboard the novena train. I agree with what General George Patton said to the Third Army's chief chaplain in December, 1944,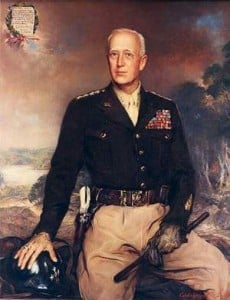 "Chaplain, I am a strong believer in Prayer. There are three ways that men get what they want; by planning, by working, and by Praying. Any great military operation takes careful planning, or thinking. Then you must have well-trained troops to carry it out: that's working. But between the plan and the operation there is always an unknown. That unknown spells defeat or victory, success or failure. It is the reaction of the actors to the ordeal when it actually comes. Some people call that getting the breaks; I call it God."

"God has His part, or margin in everything. That's where prayer comes in. Up to now, in the Third Army, God has been very good to us. We have never retreated; we have suffered no defeats, no famine, no epidemics. This is because a lot of people back home are praying for us. We were lucky in Africa, in Sicily, and in Italy. Simply because people prayed. But we have to pray for ourselves, too."

"A good soldier is not made merely by making him think and work. There is something in every soldier that goes deeper than thinking or working–it's his 'guts.' It is something that he has built in there: it is a world of truth and power that is higher than himself. Great living is not all output of thought and work. A man has to have intake as well. I don't know what you call it, but I call it Religion, Prayer, or God."
General Patton recognized the power of prayer, as well as the fact that the Kingdom of Heaven lies within each one of us. Prayer warriors unite!