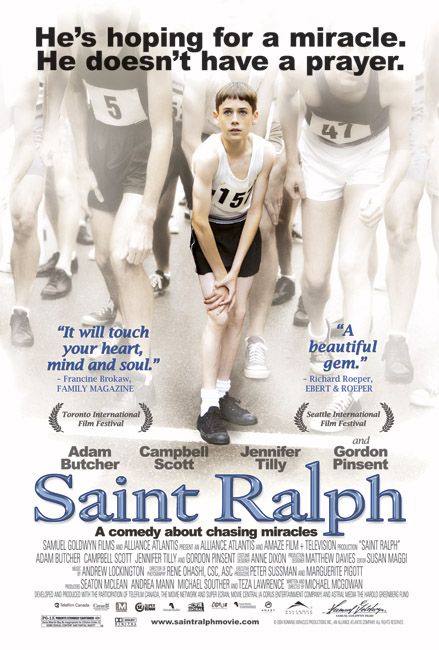 One of the things I enjoy about sharing movies with you during Lent is…seeing movies that I missed when they came around the first time. This is one of those films, and it's called Saint Ralph. Here's the set up, which sounds like it's perfect for my house full of teens (and one tween).
A young man with big dreams sets out to do the seemingly impossible in this bittersweet comedy drama. Ralph Walker (Adam Butcher) is a 14-year-old boy growing up in Hamilton, Ontario, in 1954. Ralph is convinced he's cut out to do something remarkable some day, but he hasn't quite decided what, and at the moment he has other things to worry about.

Ralph's father has recently died, as have his grandparents, and his mother (Shauna MacDonald) is severely ill and in the hospital, leaving the boy to fend for himself at home. Despite Ralph's tragic circumstances and his attendance at a Catholic school led by strict headmaster Father Fitzpatrick (Gordon Pinsent), the young man maintains a cheeky attitude and often gets on the wrong side of his teachers, and one remarkable display of poor behavior causes Fitzpatrick to sentence Ralph to membership on the school's cross-country team. The team's coach, Father Hibbert (Campbell Scott), discovers Ralph has real talent as a runner, and encourages the boy to train seriously.

When doctors inform Ralph that only a miracle can save his mother's life, he strikes upon an idea — it would be a little short of a miracle for a talented but inexperienced runner like himself to finish first in the Boston Marathon, so Ralph sets his sights on winning the race, certain in his heart that a victory could restore his mother's health. Saint Ralph also features Jennifer Tilly and Tamara Hope.
Hmmm…how's the trailer look?
Book it on Netflix today. As we just learned that my daughter's lacrosse game has been rained out, after a supper of fried talapia, we'll pop some corn, and see what transpires.