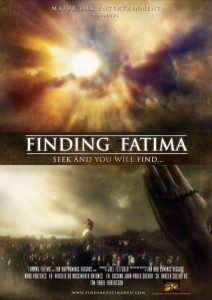 I can understand where you're coming from. You've been burned before. Or more likely, you've been duped by shoddy productions and bad acting when you were hoping a film would measure up to the standards you've come to expect. You loved Fr. Barron's Catholicism series, for instance, and want more top quality productions like that.
So I have a proposition for you: go watch Finding Fatima, the film by Ian and Dominic Higgins about the miracle in Portugal, and get a taste of the type of performance you would be pleased to support. For $6.00, a third of its DVD price, you can see and hear and experience what the folks from Major Oak Entertainment put out.
There are only a few more days left to give to the campaign to bring their current project to completion. So far, you've contributed $3,445 in this campaign, and close to $9,300 since September. If you enjoyed Finding Fatima, consider helping us make All That Remains now. Any amount is helpful and welcome! If you liked the Word on Fire series, you will love this. It is Christian Art That Does Not Suck™.
Thanks for your support!
Here's the link , which works great if you have an internet capable television, or a big computer screen. Or just hang out below with the embedded link. Either way, you won't be disappointed. I'll spell it out for you. It's high quality, high production value, and 100% guaranteed to meet your approval. You can put your money where your mouth is with confidence. Go ahead and see for yourself,