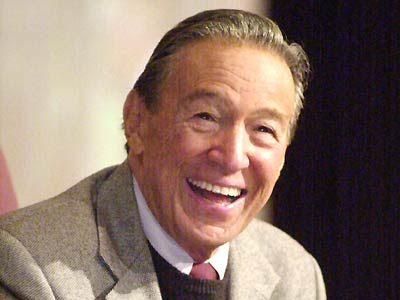 I learned a few minutes ago that Mike Wallace has passed into eternity. I met him once when I was an intern at the CBS News bureau in Los Angeles. That was 20 years ago, which means he was 73 years old at that time.
It was an interesting few months during that summer. I met many folks, and made a friend I still stay in touch with to this day. But the most memorable moment I have of my time spent there on Beverly Boulevard wasn't the models from The Price is Right, or the soap opera stars and starlets from The Young and the Restless.
It was when Mike Wallace came to town because he was working on a story for 60 Minutes. Unfortunately, I'm prone to sizing people up very quickly. But in watching Mike Wallace interacting with folks for the better part of one day behind the scenes in the newsroom, I knew that he was someone who many pretenders in that business are not.
He was genuine, and a true journalist. He never shied from asking the hard questions. Remember when I posted the interview he did with Ayn Rand from 1961? Throughout his career, he won 21 Emmy awards, five DuPont-Columbia journalism awards, and five Peabody awards. His courage while interviewing folks is the thing that legends are made of. He will be sorely missed.
On that note, I'll let his friend Morley Safer tell the rest of his story,
Here is more from a print story his former employer published this morning,
60 Minutes icon Mike Wallace dies at 93

CBS News legend Mike Wallace, the 60 Minutes' pit-bull reporter whose probing, brazen style made his name synonymous with the tough interview — a style he practically invented for television more than half a century ago — died last night. He was 93 and passed peacefully surrounded by family members at Waveny Care Center in New Canaan, Conn., where he spent the past few years. He also had a home in Manhattan.

"It is with tremendous sadness that we mark the passing of Mike Wallace. His extraordinary contribution as a broadcaster is immeasurable and he has been a force within the television industry throughout its existence. His loss will be felt by all of us at CBS," said Leslie Moonves, president and CEO, CBS Corporation.

"All of us at CBS News and particularly at 60 Minutes owe so much to Mike. Without him and his iconic style, there probably wouldn't be a 60 Minutes. There simply hasn't been another broadcast journalist with that much talent. It almost didn't matter what stories he was covering, you just wanted to hear what he would ask next. Around CBS he was the same infectious, funny and ferocious person as he was on TV. We loved him and we will miss him very much," said Jeff Fager, chairman CBSNews and executive producer of 60 Minutes.

A special program dedicated to Wallace will be broadcast on 60 Minutes next Sunday, April 15.

Wallace was as famous as the leaders, newsmakers and celebrities who suffered his blistering interrogations, winning awards and a reputation for digging out the hidden truth on Sunday nights in front of an audience that approached 40 million at broadcast television's peak.

Wallace played a huge role in 60 Minutes' rise to the top of the ratings to become the number-one program of all time, with an unprecedented 23 seasons on the Nielsen annual top 10 list — five as the number-one program.

He announced he would step down to become a "correspondent emeritus" in the spring of 2006, but Wallace continued to land big interviews for 60 Minutes. His last appearance on television, on January 6, 2008, was a sit-down on 60 Minutes with accused steroid user Roger Clemens that made front-page news. His August 2006 interview of Iranian President Mahmoud Ahmadinejad won him his 21st Emmy at the age of 89. He was also granted the first post-prison interview with assisted suicide advocate-and convicted killer Dr. Jack Kevorkian for a June 2007 60 Minutes broadcast. After a successful triple bypass operation in late January 2008, he retired from public life.

Decades before his 60 Minutes success, Wallace was already known to millions. In the early days of broadcasting, with no line between news and entertainment, Wallace did both in the 1940s and '50s. He appeared on a variety of radio and television programs, first as narrator/announcer, then as a reporter, actor and program host. On his first network television news program, ABC's "The Mike Wallace Interview," he perfected his interviewing style that he first tried on a local New York television guest show called "Night Beat." Created with producer Ted Yates, "Night Beat" became an instant hit that New Yorkers began referring to as "brow beat." Wallace's relentless questioning of his subjects proved to be a compelling alternative to the polite chit-chat practiced by early television hosts.
You'll want to go read it all.
Mike Wallace never remembered me, I can assure you. But I definitely remember him. And now, I only pray that in death, on this the Feast of Easter, that Mike Wallace finds the truth that he always sought while here on earth, and that he is rewarded with the following words: "well done, thy good and faithful servant."
Amen, and Godspeed.