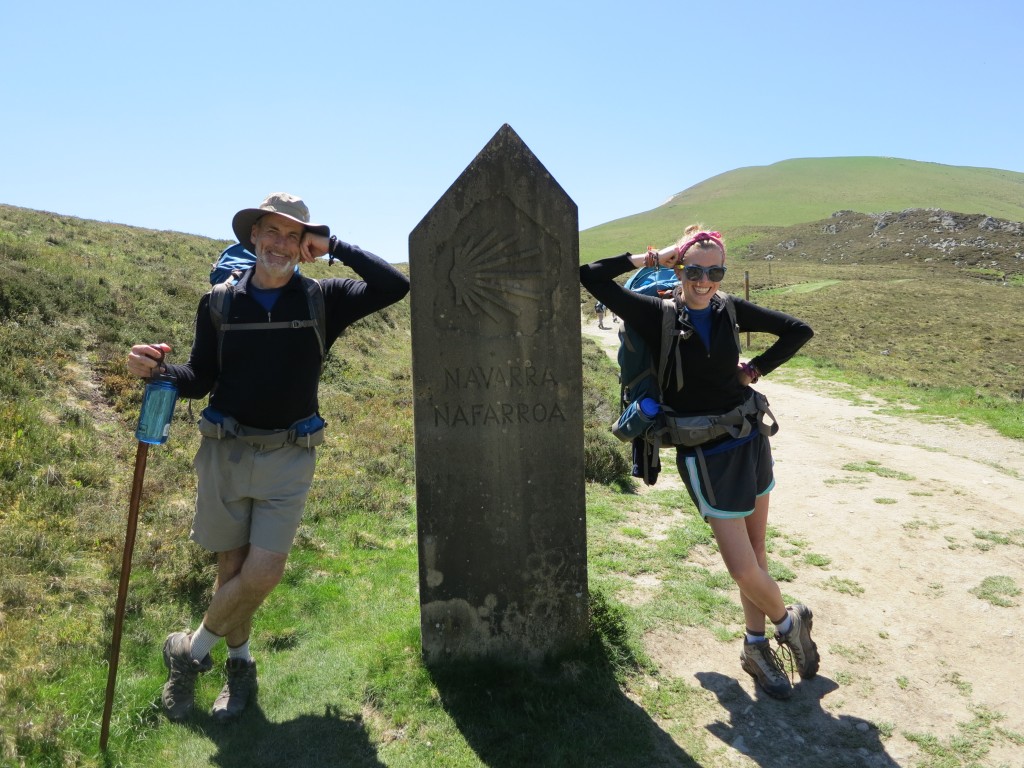 That guy with the beard above is Webster Bull, a pilgrim along the Way of St. James, also known as El Camino de Santiago de Compostela. Webster is the founder of this blog, as long time readers will recall. With him in the photograph is his daughter Marian. They up and decided to take a few months off and hit the trail blazed by countless pilgrims since olden times, and Martin Sheen since the film "The Way" opened in theaters last year.
Below is a recap of Day One of their trek from Webster's blog Witness. They have seven days, and about 170 kilometers (or so), under their feet so far. Webster is writing about the trek (and Marian is too), and for those of you thinking about walking the Camino, consider these two as your own personal reconnaissance team. Follow along with them for the next few weeks as they wind their way over the landscape (geographical, as well as spiritual) of their own personal Caminos, as they make their way to where St. James is buried.
They are doing all the hard work for us. All we have to do is read. On that note, I'll turn it over to Webster…
St. Jean Pied de Port to Roncesvalles: Short Takes from Day 1
The good news is that Marian and I successfully completed the first stage of the so-called Camino Francés today, starting in St. Jean Pied de Port, France, at 7:30 this morning and ending late this afternoon in Roncesvalles, Spain, after crossing the Pyrenees. The bad news is, we do it again tomorrow.
I have walked 20 miles before, but on the flat with no pack on my back. Today, we walked over 20 miles, climbed 4,000 net feet, descended 2,000 net feet — all the while carrying 10-kilo backpacks. Before the 9-euro pilgrim supper across the street, I wandered around the halls of the new, state-of-the-art pilgrim refuge here (opened since the filming of "The Way," which showed Martin Sheen's character staying in a dismal barracks-like place during his first night on the Camino) like a zombie with blisters.
My pastor, Father Barnes, and my friend Ferde both did their best to remind me that we are on a pilgrimage, not a pleasure trip. To which I can only reply, Yeah, so?
OK, a few short takes before I crash, with hopes of adding a few more impressions before dawn on Day 2.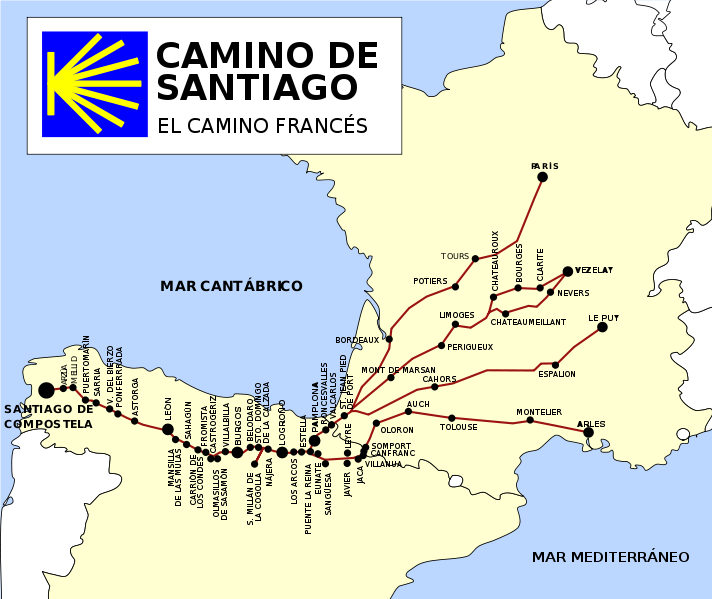 Sunday in St. Jean Pied de Port was a miracle, considering that we had hoped to leave town on Sunday. We attended mass at the town church, where the 11 am liturgy combined French and Basque language. It was First Communion for about 20 children. Marian and I sat literally in the back of the balcony and under the rafters. We were flanked on both sides by stolid Basque men, who stood throughout the Mass like sentries on duty with their hands folded in front of them. Marian had to do a sort of dance for the fellow on her immediate left during the Sign of Peace, just to get his attention.
But children are children everywhere, and the well-choreographed First Communion was a delight to watch, like being special guests at a wedding feast. At the end, the boys and girls receiving their first Eucharist gathered around the statue of Mary and the Child Jesus to the left of the altar and sang them a song, just like Benedictine monks at the end of night prayer.
We spent Sunday night at Kaserna, a pilgrim refuge owned and operated by the Catholic Church. A local woman left her house in her will for the purpose, but it took the parish five years to raise the money to rehab the house, and another couple of years to find volunteer hospitaliers to man it. They couldn't have done better. Our hosts were the remarkable Jacques & Monique Mullon, who are nearing the end of a three-year hitch as full-time volunteer workers here.
There's so much to write about Monsieur and Madame Mullon — like how Jacques, a confirmed atheist, was baptized and received into the Church after walking the Camino with his devout wife — that I will reserve them for another post. Because I also have to tell you a few things briefly about
Monday on the mountain We were served coffee and bread at Kaserna at 7am, and Jacques saw us off in the street. To me he pointed out the fog over the church where we had attended Mass yesterday. When there is fog on the church, he explained, there is beautiful weather on the mountain, and vice versa.
The weather could not have been more gorgeous. As we climbed above the town and began looking back over the long valley running down the middle of the Pyrenees here at the western end, the fog had neither risen nor dissipated. We looked down on what looked like a vaporous lake with high, foaming billows, and islands sticking up where hills rose out of the fog. It was a dream landscape, in which the constant tinkling of sheep bells was like wind chimes on a friendly neighbor's porch.
For the first 10 kilometers or so we were walking on roadways along which Basque farmers buzzed past us in their ubiquitous white Renault compacts. One of these gentlemen came past when four of our party were walking the left shoulder and the other two the right. He shouted as he passed, "Du même côté, les cons!" To maintain family standards, I will translate this loosely as, "Use one side of the street, you asses!"
The Camino is many things, and one of these is a metaphor for life. In life, people come and go, disappearing without warning and then making surprise entrances when you least expect them. So it was from last night through today. Around the dinner table at Kaserna last night were Jacques, Monique, Marian, myself, and ten other pilgrims. Of these, four made repeated appearances today on the road to Roncesvalles. Two were Koreans, unrelated to one another: Phillip, a devout Catholic pilgrim about my age, and Song-Mi, a Korean businesswoman of about 35 working in London for the past 10 years but contemplating a change in her life. There is a striking number of Koreans on the Camino.
The two others were Dominik, a 27-year-old Austrian returning to school in the fall, and Erika, a 35-year-old single mother from Lithuania. Early in the day's trek, I gathered that Dominik hopes to walk the Camino in double-time. I told him the Aesop fable of the tortoise and the hare, and the basic plot line of that fable played out for the rest of the day, as he and Erika shot ahead, then stopped for a break or nap, and Marian and I plodded by.
I told Dominik that his name was a good omen to me, since St. Dominic was an itinerant preacher who, with St. Francis, helped restore the Church at a time when it was quite corrupt. "Still is corrupt," he retorted, regarding the Church.
Erika was a bit different. She and Marian struck up a conversation; then I walked by her side for a bit. I asked her, as I have asked others, why she is walking to Santiago de Compostela. "Many reasons," she said, "but not for fun. I want to give a gift to my God, who has been so generous with me."
I asked her if she followed any organized form of religion. She answered that she was a Christian who did not think highly of organized religion.
Later Marian and I walked ahead of Dominik and Erika, tortoise-like on the brutal final downhill leg of today's journey. (Try walking downhill over rocks after ascending for about seven hours. You will know that you have knees. You will know that you have hips.) I could hear the sound of a rabbit approaching from behind us. It was Dominik, of course, with Erika by his side.
Dominik went past, eager to prove Aesop wrong, while Erika settled in by my side. "As I came down and saw you," she said, "I thought you finally looked like a father." She was referring to my limp, my very slow pace, my look of utter exhaustion. "How old are you?" she asked. I replied that I am 60. "My respect to you," Erika said, touching her heart before joining Dominick at the head of the race.
Catch up on the rest of the journey over at Witness, which has been streamlined for the trek. Make sure you check out Marian's blog as well.