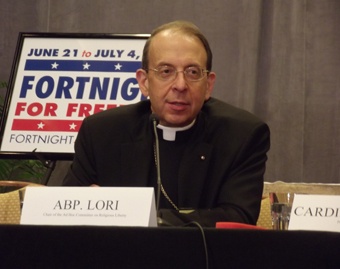 It hit the web edition's Guest Voices column early this afternoon.
With tweets and text messages, prayers and preaching, Catholics and other Americans will spend the next two weeks (June 21-July 4) launching a religious freedom awareness campaign called the "Fortnight for Freedom."

Concern for religious freedom both here and abroad has been growing for years, and now there are calls for immediate action. Stories of people literally dying for the faith in Iraq and Nigeria can be found in daily newspapers. There, churches are bombed and the blood of martyrs runs freely.

Here in the United States, our concern arises from far less dire–yet still very serious–threats to our own free exercise of religion. We are blessed in our nation to call this our "First Freedom." It is listed at the top of the Bill of Rights in our Constitution, and reinforced by so many other laws protecting the freedom of belief, worship, and action. In short, these laws protect us from being punished by the government for living in accord with our religious beliefs.

The most visible threat currently is the HHS mandate, which forces people and groups to fund and facilitate services to which they object in conscience. Making matters worse, this mandate exempts some from that coercion, based on a definition of religious ministry that is extremely narrow and unprecedented in federal law.

According to HHS, an entity deserves religious freedom only if it primarily hires and primarily serves its co-religionists. But the state has no competence or authority to define the church and her ministries, let alone to impose on her such a restrictive, inward-looking definition.

This definition is a blow to any religious community, but especially to Catholics, who are called to serve anyone in need. As we often say, we serve people because we are Catholic, not because they are. It is why so many Catholic schools enroll so many non-Catholics; Catholic hospitals don't ask for baptismal certificates upon admission; and Catholic soup kitchens don't quiz the hungry on the Catechism.
FYI—we've crossed the line of departure.