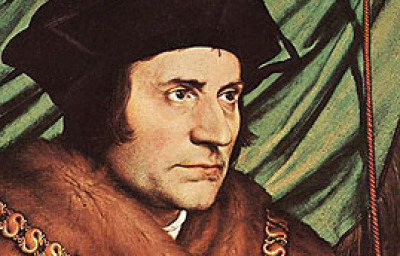 I take it for granted that you've heard of Sir Thomas More by now. Maybe you know of his political classic Utopia, or that he is the patron saint of lawyers, and politicians. Perhaps you remember him as that character that was beheaded for treason while you were watching The Tudors on Showtime. Or maybe the film A Man for All Seasons replays in you minds' eye the tale of this storied saints' life.
Here's the quick recap of his life for those of you who may not know. More was Lord Chancellor of England under King Henry VIII. That is, until Henry decided to be declared the head of the Church in England. As More wouldn't sign on to the Acts of Supremacy, he resigned his post. Later, when More failed to attend the coronation of Henry's "new" wife, he was brought in for questioning ( a trial, really) and arrested for treason a few days later. His fall from the pinnacle of power to the utter humiliation of being imprisoned in the Tower of London was swift, and led to the executioners block in a little less than three months. New Advent has the longer version if you care to dig deeper.
While he was imprisoned, he used his time to write us a comprehensive manual (320 pages worth!) on how to deal with the trials and tribulations that beset Christians during our tour of duty here on earth. I recently added it to the YIMCatholic Bookshelf, and I've been fascinated by his thoughts while sitting on what amounted to "death row." He entitled it A Dialogue of Comfort against Tribulation, and as the title suggests, it is in the form of a dialogue between an imprisoned (in Hungary) Uncle Antony who is visited by his nephew Vincent. Vincent seeks wisdom from his uncle, and boy howdy does he get it.
What follows is Chapter VI from the dialogue, which starts with a statement, a reply by the nephew, and exposition by our saint disguised as "Uncle Antony." As you read them, keep in mind that the clock on his own mortality was ticking down for the entire time he was composing these thoughts. Grace under pressure…
It sufficeth not that a man have a desire to be comforted by God only by the taking away of the Tribulation.

Vincent:—Verily methinketh, good uncle, that this counsel is very good. For except the person have first a desire to be comforted by God, else can I not see what it can avail to give him any further counsel of any spiritual comfort. Howbeit, what if the man have this desire of God's comfort, that is to wit, that it may please God to comfort him in his tribulation by taking that tribulation from him; is not this a good desire of God's comfort, and a desire sufficient for him that is in tribulation?

Antony:—No, cousin, that is it not. I touched before a word of this point, and passed it over, because I thought it would fall in our way again, and so wot I well it will ofter than once. And now am I glad that you move it me here yourself. A man may many times well and without sin desire of God the tribulation to be taken from him; but neither may we desire that in every case, nor yet very well in no case (except very few), but under a certain condition, either expressed or implied. For tricot moers bulations are (ye wot well) of many sundry utions. kinds: some by loss ot goods or possessions; some by the sickness of ourself, and some by the loss of friends, or by some other pain put unto our bodies; some by the dread of losing those things that we fain would save, under which fear fall all the same things that we have spoken before. For we may fear loss of goods or possessions, or the loss of our friends, their grief andtrouble, or our own; by sickness, imprisonment, or other bodily pain we may be troubled with the dread of death, and many a good man is troubled most of all with the fear of that thing, which he that most need hath fearest least of all, that is to wit, the fear of losing through deadly sin the life of his silly soul. And this last kind of tribulation, as the sorest tribulation of all, though we touched here and there some pieces thereof before, yet the chief part and the principal point will I reserve, to treat apart effectually that matter in the last end.

But now, as I said, where the kinds of tribulation are so divers, some of these tribulations a man may pray God take from him, and take some comfort in the trust that God will so do. And therefore against hunger, sickness, and bodily hurt, and against the loss of either body or soul, men may lawfully many times pray to the goodness of God, either for themself or their friend. And toward this purpose are expressly prayed many devout orisons in the common service of our Mother Holy Church. And toward our help in some of these things serve some of the petitions in the Pater-noster, wherein we pray daily for our daily food, and to be preserved from the fall in temptation, and to be delivered from evil. But yet may we not always pray for the taking away from us, of every kind of temptation. For if a man should in every sickness pray for his health again, when should he show himself content to die and to depart unto God? And that mind must a man have, ye wot (know) well, or else it will not be well.

One tribulation is it to good men, to feel in themself the conflict of the flesh against the soul, the rebellion of sensuality against the rule and governance of reason, the relics that remain in mankind of old original sin, of which St. Paul so sore complaineth in his Epistle to the Romans. And yet may we not pray, while we stand in this life, to have this kind of tribulation utterly taken from us. For it is left us by God's ordinance to strive against it, and fight withal, and by reason and grace to master it, and use it for the matter of our merit. For the salvation of our soul may we boldly pray; for grace may we boldly pray; for faith, for hope, and for charity, and for every such virtue as shall serve us to heaven-ward. But as for all other things before remembered, in which is conceived the matter of every kind of tribulation, we may never well make prayers so precisely but that we must express or imply a condition therein; that is to wit, that if God see the contrary better for us, we refer it whole to his will, and instead of our grief taking away, pray that God may send us of his goodness either spiritual comfort to take it gladly, or strength at leastwise to bear it patiently. For if we determine with ourself that we will take no comfort in nothing, but in the taking of our tribulation from us; then either prescribe we to God, that we will he shall no better turn do us, though he would, than we will ourself appoint him; or else do we declare that what thing is best for us, we ourself can better tell than he.

And therefore, I say, let us in tribulation desire his comfort and help, and let us remit the manner of that comfort unto his own high pleasure; which, when we do, let us nothing doubt, but that like as his high wisdom better seeth what is best for us than we can see ourself, so shall his high sovereign goodness give us that thing that shall indeed be best. For else if we will presume to stand to our own choice, except it so be that God offer us the choice himself (as he did to David in the choice of his own punishment, after his high pride conceived in the numbering of his people), we may foolishly choose the worst; and by the prescribing unto God ourself so precisely what we will that he shall do for us (except that of his gracious favour he reject our folly), he shall for indignation grant us our own request, and after shall we well find that it shall turn us to harm.

How many men attain health of body, that were better for their souls' health their bodies were sick still! How many get out of prison, that hap on such harm abroad as the prison should have kept them from! How many that have been loth to lose their worldly goods, have in keeping of their goods soon after lost their lives! So blind is our mortality, and so unaware what will fall, so unsure also, what manner of mind we will have to-morrow, that God could not lightly do man a more vengeance than in this world to grant him his own foolish wishes. What wit have we (poor fools) to wit what will serve us, when the blessed Apostle himself in his sore tribulation, praying thrice unto God to take it away from him, was answered again by God in a manner that he was but a fool in asking that request,but that the help of God's grace in that tribulation to strengthen him was far better for him, than to take the tribulation from him? And therefore, by experience perceiving well the truth of that lesson, he giveth us good warning not to be bold of our own minds when we require aught of God, nor to be precise in our askings, but refer the choice to God at his own pleasure. For his own Holy Spirit so sore desireth our weal, that, as men say, he groaneth for us in such wise as no tongue can tell. Nos autem saith St. Paul) —quid oremus ut oportet, nescimus; sed ipse Spiritus postulatpro nobis gemitibus inenarrabilibus, —We, what we may pray for that were behoveable for us, cannot yourself tell: but the Spirit himself desireth for us with unspeakable groanings.

And therefore, I say, for conclusion of this point, let us never ask of God precisely our own ease by delivering us from our tribulation, but pray for his aid and comfort, by which ways himself shall best like; and then may we take comfort, even of our such request. For both be we sure that this mind cometh of God, and also be we very sure that as he beginneth to work with us, so (but if ourself flit from him) he will not fail to tarry with us; and then, he dwelling with us, what trouble can do us harm? Si Deus pro nobis, quis contra nos?—If God be with us (saith St. Paul), who can stand against us?
Amen. St. Thomas More, pray for us.
UPDATE: The Curt Jester notified me that More's pen was a flying, for he wrote a second book while in the Tower: The Sadness of Christ.