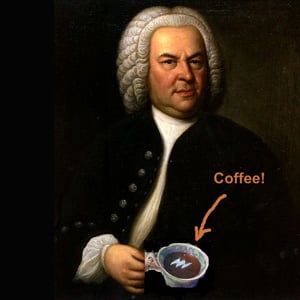 Johann Sebastian Bach loved coffee, before coffee houses were cool. He and his musician friends hung out at a place in Liepzig that was something along the lines of Central Perk in the television series Friends, and they jammed, and penned masterpieces, and stuff.
Being the giant of music knowledge that I am, I found all this out today via a Google search (about 5 minutes ago) because I love books, coffee, and music. All I really wanted to share was a link to the YIMCatholic Bookshelf and say, "Hey y'all. Enjoy the virtual books at the YIMCatholic Bookshelf, but BYOC (Bring Your Own Coffee).
Guess what? I'm still doing that (very perceptive you are, dear reader).
But now, due to Google skills I never knew I had, there's Bach to be shared, and funny lyrics in German to be translated.  Why? So you can laugh along with Bach as he lampoons the coffee naysayers in Liepzig, circa 1732-34, who were sure coffee was a hellish brew, drinkers of which should be watched carefully for signs of wackiness ala the well meaning folks that brought us Reefer Madness. A taste and links to the lyrics, courtsey of Good-Music-Guide.com,
Coffee Cantata is lighthearted, as close as Bach comes to comic opera, in which he pokes fun at both coffee drinkers and their old-fashioned critics.

The story concerns the father Herr Schlendrian ("Mr Routine") portrayed by a plodding lead-footed melody, and his daughter Lieschen, the coffee-lover. She is introduced by a lively and beguiliing Aria.

In an effort to rid his daughter of the evil drink, he progressively forbids her her luxuries. Lieschen refuses to give it up, saying that coffee is "more delicious than a thousand kisses, and sweeter than muscatel wine". It is only when Schlendrian refuses to allow her to marry that she relents. But even then, as the father goes off to find a husband, Lieschen reveals that she will make it a part of the marriage contract that she be allowed her three cups a day.

This is a charming introduction to Bach's Cantatas, with friendly melodies, cleverly reflecting the characters' personalities. And generously includes the other popular secular cantata the Peasant Cantata with its infectiously enjoyable tunes, Bach letting his hair down and obviously having much fun.
The 
Crazy Idea of the Day: Sing along!
Don't forget to read a good book from you know where too.