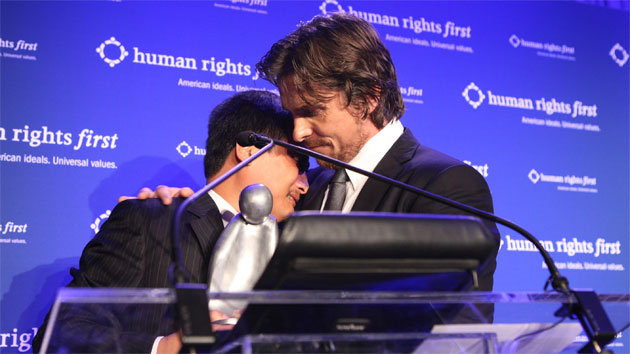 "What I really wanted to do was shake the man's hand and say 'thank you,' and tell him what an inspiration he is."
That's what actor Christian Bale said about the blind, imprisoned, pro-life activist named Chen Guangcheng last December when he unsuccessfully tried to visit him. Red tape, ahem, got in the way.
Since that time, Chen had escaped his tormentors, fled to the U.S. Embassy, causing a bit of an embarrassing situation for the Obama Administration, and his home government.
But thankfully, Chen and his family received asylum here in the United States.
Last night, Human Rights First held an awards banquet and Bale got his chance to say thank you to Chen. Roll tape,
It's like Christian says, you know. The entire law hangs on what we've been taught and called to pass on to our children and our children's children. Two simple precepts to remember and yet seemingly so hard to put into practice.
There was a scholar of the law who stood up to test him and said, "Teacher, what must I do to inherit eternal life?" Jesus said to him, "What is written in the law? How do you read it?" He said in reply, "You shall love the Lord, your God, with all your heart, with all your being, with all your strength, and with all your mind, and your neighbor as yourself."

He replied to him, "You have answered correctly; do this and you will live."
Christian is as Christian does.
Update:
Read all about it in the Wall Street Journal.