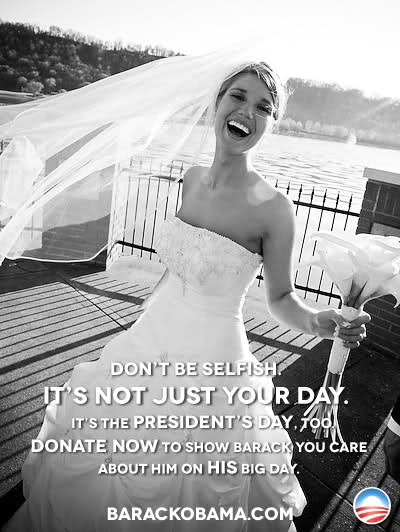 I thought the above was over the top. And then I saw this.
Our President approves of the following message…
Makes me sad for Malia and Natasha.
I'm not completely surprised though. Twenty-five days ago, I noted that the politics of the orgasm is rising to the fore. The video above reminds me of the pledge I penned,
I pledge allegiance to the Orgasm,

of the disordered states of America.

And to the Pleasure, for which it stands,

many Orientations, over god, non-judgmentally,

with libertinism, and contraceptives, for All.
Weird-O-Rama for Obama.
Frank, it's just a double entendre, you yokel!
Or is the President really so out of touch that he would consciously approve of such a commercial? Kind of a tacit droits du seigneur approach to the electorate?
Creepy.
Vladamir Putin dug it though. He led the way back in February and even broke out the gypsy fortune teller…
Hmmm. Standing by for the flexibility after the election, eh Vladimir?
As Mark Shea would say, how can you possibly vote for these guys? And as Deacon Greg puts it, it's a Great Moment in Democracy.