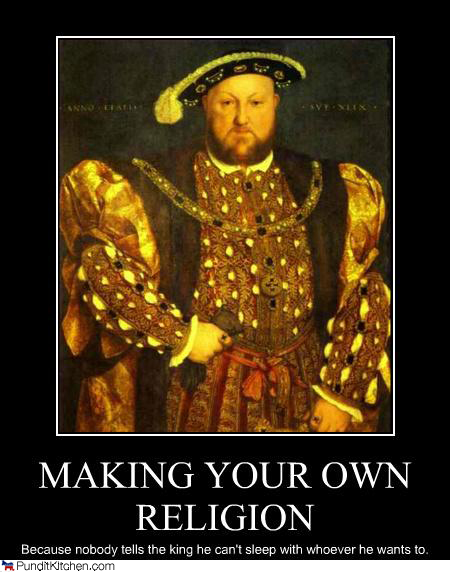 Which is why it must be rescinded. Yesterday, I talked about how pelvic issues have taken primacy and shared Dr. Helen Alvaré's talk on the HHS Mandate given back in April. Looking further back to February, someone sent me an e-mail about a free class on the Constitution being offered at Hillsdale College. You can still sign up for that bootstrap class, and throw them some shekels as a donation for good measure.
This morning, I share with you a few words from Mark Steyn, a former guest lecturer at Hillsdale whose Op-Ed piece "Obama goes all Henry VIII on the church," was published in the Orange Counter Register back in February, and deserves to be brought forth from the archives again.
Announcing his support for Commissar Sebelius' edicts on contraception, sterilization, and pharmacological abortion, that noted theologian the Most Reverend Al Sharpton explained: "If we are going to have a separation of church and state, we're going to have a separation of church and state."

Thanks for clarifying that. The church model the young American state wished to separate from was that of the British monarch, who remains to this day Supreme Governor of the Church of England. This convenient arrangement dates from the 1534 Act of Supremacy. The title of the law gives you the general upshot, but, just in case you're a bit slow on the uptake, the text proclaims "the King's Majesty justly and rightfully is and ought to be the supreme head of the Church of England." That's to say, the sovereign is "the only supreme head on earth of the Church" and he shall enjoy "all honors, dignities, pre-eminences, jurisdictions, privileges, authorities, immunities, profits and commodities to the said dignity," not to mention His Majesty "shall have full power and authority from time to time to visit, repress, redress, record, order, correct, restrain and amend all such errors, heresies, abuses, offenses, contempts and enormities, whatsoever they be."

Welcome to Obamacare.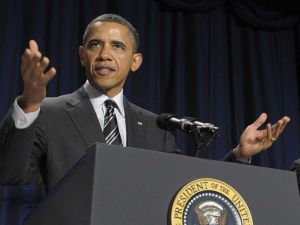 Read the rest. But Frank, you appeal, this guy Steyn is a "known conservative" writer and thinker. Of course he's against the Administration, just as surely as a zebra has stripes.
Yes, dear reader but here's the thing about the current constitutional imbroglio, even "known liberals" like Chris Matthews of MSNBC, and Mark Shields of PBS understand that the policy of the Administration is just plain wrong, even if they backpeddled furiously once the phony "accomodation" was presented to a grateful public.
And then there is the inconvenient truth that many of the supposed "liberal" bishops have stayed the course,  kept their backbones and stood against this tyrannical act. Remember this blogpost from Cardinal Roger Mahoney?
Mr. President, you are trying to resolve the wrong problem. Your HHS new federal rule governing mandated health care services is not just about women's services and who pays for them.

Rather, the real question is what protections and guarantees are afforded Americans and our various institutions by the Constitution. Your ill-placed focus should be frightening to all Americans.

Freedom of conscience and religious liberty are not concessions grudgingly granted by the Federal Government–either directly, or by way of exemption or exception. Our nation was founded on those basic and inalienable rights as the bedrock of who we are as Americans. Our Constitution was written precisely to reject and to avoid the dreadful English model whereby the king and the government are the granter of all rights, including religious rights–as well as the single power to withdraw, limit, or negate those rights.
The same Cardinal had thoughts on the Chick Fil-A embroglio you probably missed as well,
The latest visible and glaring example of people in government punishing people for holding differing beliefs from government leaders focuses on a chicken sandwich.

Chick-fil-A is a national restaurant chain which specializes in chicken sandwiches, other chicken foods, as well as various sides, drinks, and desserts.

Chick-fil-A president Dan Cathy has consistently backed "the biblical definition of a family," and his foundation has contributed to groups working to maintain the traditional definition of a marriage–one man and one woman.  He later added, "I think we are inviting God's judgment on our nation when we shake our fist at him and say, 'We know better than you as to what constitutes a marriage'."

Sounds to me like speech from a son of God and speech guaranteed by the First Amendment to our Constitution.
Read the rest by His Excellency. And might I add, it's the textbook definition of the word "unwavering?" And Cardinal Dolan, still holds the line too.
Today our focus is on threats to international religious freedom, but, as you are well aware, there are serious challenges to religious freedom within our own nation, serious problems the Church faces in her life and mission in the United States — threats that could marginalize the Church and her educational, charitable and health care institutions. As grave as these challenges remain, they are of a different order than those faced by Christians and other people of faith in many countries. In the words of Archbishop Dominique Mamberti, Secretary for Relations with States of the Holy See, "Of course, nobody would confuse or equate this marginalization of religion with the actual persecution and killing of Christians in other areas of the world."[1] Not only is it morally imperative, consonant with the urgent gospel demands of justice and charity, for us as Catholics to be prophetic leaders in defending our co-religionists around the world who are today being "thrown to the lions," but it is strategically necessary, as our own laudable efforts to defend our "first and most cherished freedom" here at home, are hollow and hypocritical if not coupled with a ringing solicitude for those under more overtly violent attack throughout the world.

In all of our deliberations here we must remember that the absence of religious freedom in countries around the world leads to terrible human suffering. We hold in our hearts images of bloodied bodies lying lifeless amidst the rubble of bombed houses of worship, and the anguished faces of family members mourning their loss. We remember the anxious looks of refugees leaving behind homes and livelihoods as they flee religious discrimination or outright persecution. My hope is that we will together find ways to build societies respectful of the religious freedom of all persons and communities, a freedom at the foundation of all others, a freedom we Americans of all creeds, or none at all, rise to defend, at home and beyond.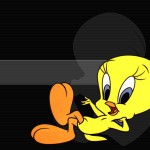 And so we have to come to terms with the fact that the Administration, despite happy-clap talk to the contrary, has declared war on the Church, and all people of faith. If the fact that 100% of the bishops in the United States have spoken against the HHS Mandate, and scores of our Orthodox and Protestant brethren have as well, has not convinced you that something serious is afoot, then it's probable that nothing will convince you. Remember the canary in the coal mine fail-safe? Miners used them to detect poisonous gas. Well, Tweety is dead at the bottom of the cage, folks.
As you ponder all of that, I'll dip into the old music archives and spin Herman's Hermits for you, what with Monday usually being a music post and all.
http://youtu.be/sZG0NZviGvA