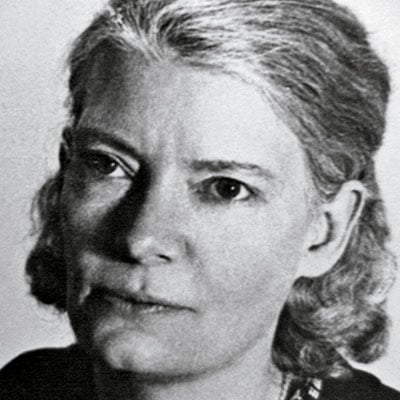 This was written three years ago by my (then) blogging partner, Webster Bull. Given all the excitement about her cause for sainthood, I think it's a good time to take a look at Dorothy Day not only from Webster's viewpoint, but in her own words too.
So sit back, relax, and meet Dorothy Day (and Peter Maurin) and come to know why an encounter with her helps lead us to Christ.
****
Today is the anniversary of the death of a great Catholic. A one-time radical, a sinner, a convert, a courageous pacifist (no, that is not an oxymoron), not yet a saint—she gets my vote for most compelling American Catholic of the 20th century. Her name? Dorothy Day. She died 29 (ed. 32) years ago today.
Let's begin with three quotes:
"Dorothy Day has been described as a very erratic and irresponsible person. She has engaged in activities which strongly suggest that she is consciously or unconsciously being used by communist groups. From past experience with her it is obvious she maintains a very hostile and belligerent attitude towards the Bureau and makes every effort to castigate the Bureau whenever she feels so inclined."—J. Edgar Hoover

"I write to initiate the canonization process of Dorothy Day. To be sure, her life is a model for all in the third millennium, but especially for women who have had or are considering abortions. . . . I contend that her abortion should not preclude her cause, but intensifies it."—John Cardinal O'Conner

"Don't call me a saint. I don't want to be dismissed that easily."—Dorothy Day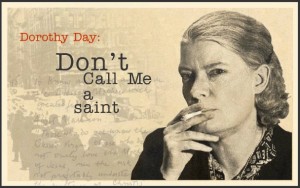 Despite her concern, Dorothy Day is difficult to dismiss. Yet she is dismissed, or overlooked by mainstream Catholicism. I prepared a talk on her for men's group about a year ago, and more than half the guys admitted that they knew little or nothing about her. Amazing but true: I was a self-described Vietnam era peacenik, but I never learned about Dorothy until I became a Catholic two years ago (ed. See? Saints are obscure.) Unlike the Berrigan brothers or Father Drinan, more Catholics who came out against that war, Dorothy was too busy helping the poor to steal the headlines.
Born in Brooklyn in 1897, she was the daughter of a non-believing journalist father whose beat was horse-racing. He apparently spent quality time at the track. Dorothy lived through the San Francisco earthquake of 1908 and remembered it vividly in her memoir The Long Loneliness. Her family soon moved to Chicago, where she had her first prolonged exposure to poverty. She enrolled at the University of Illinois but left after two years, moved to New York City, and became a freelance journalist, principally for socialist, communist, and anarchist periodicals. In 1917 she joined a suffragist rally outside the White House, was jailed with other female demonstrators, and went on a hunger strike. She was 20.
In 1924, she published her first book, an autobiographical novel called The Eleventh Virgin. It was based on her own bohemian life and would be the only writing in a lifetime of writing in which she would refer to her own abortion. Soon she had moved into a beach house on Staten Island with her common-law husband, Forster Batterham, a confirmed atheist. She seems to have adored him, though he spent most of the weeks in Manhattan and was with her just on weekends.
Thinking she could no longer have children, she became pregnant by Batterham in 1926 and gave birth to a daughter, Tamar Teresa. She asked a nun about baptizing her daughter. The nun said, "Fine," but Dorothy should consider becoming a Catholic herself. And knowing that it would mean losing her atheist "husband," she did just that. Dorothy lived alone with Tamar as a single Catholic mother for six years, torn between the Church and her vision of social justice. She believed, not without justification, that the Church talked about caring for the poor while catering to the non-poor.
In 1932, Dorothy joined a hunger march in Washington (it was the Great Depression, folks). She prayed at the National Shrine of the Immaculate Conception that "some way would open up for me to use what talents I possessed for my fellow workers." When she returned home to New York, she found Peter Maurin on her doorstep. (She told the story this way; others say Maurin appeared within a few days or weeks of her return.)
Maurin was an itinerant preacher in old beat-up clothes. He proposed to Dorothy a three-part plan: what he called round-table discussions, houses of hospitality, and agronomic universities. For the rest of her life (until 1980), Dorothy put this plan in action. The first issue of The Catholic Worker, a newspaper that sold for one penny a copy, was distributed at a Communist rally in Union Square. I like to think of that paper as Dorothy's blog. She wrote for it constantly. And when she, or the paper, or her Houses of Hospitality (a string of homeless shelters founded in 1935) ran out of money, she wrote a front-page plea for funds, and the funds invariably arrived.
In 1936 civil war erupted in Spain. The Church supported Franco. The left supported the Communists. Dorothy Day outraged them all by remaining neutral. In 1939, alert to the threat of Nazism before many other intellectuals, she founded the Committee of Catholics to Fight Anti-Semitism. Despite her critique of Hitler's regime, she espoused pacifism when the US entered the war following Pearl Harbor.
In the 1960s, Dorothy would join campaigns for nuclear disarmament and civil rights, and she would oppose the war in Vietnam. A Catholic Worker staffer would be the first personal jailed for burning his draft card. Another committed suicide by setting himself on fire in front of the US mission to the UN. (Dorothy's CW editorial the following day is heart-breaking.) In 1973, she was arrested for the last time, on a United Farm Workers picket line in California.
In 2000, the cause for her beatification was formally opened with Vatican approval.
Without question, the most challenging fact of Dorothy Day's life is her adamant pacifism. Here, I know I cannot speak more eloquently than Dorothy herself, so I'll end with the most challenging thought of all: remaining pacifist in the face of Nazism.
Our Country Passes from Undeclared to Declared War; We Continue Our Christian Pacifist Stand (CW 1942)

Dear Fellow Workers in Christ,

Lord God, merciful God, our Father, shall we keep silent, or shall we speak? And if we speak, what shall we say?

I am sitting here in the church on Mott Street writing this in Your presence. Out on the streets it is quiet, but You are there, too, in the Chinese, in the Italians, these neighbors we love. We love them because they are our brothers, as Christ is our Brother, and God our Father. But we have forgotten so much. We have all forgotten. . . .

Seventy-five thousand copies of The Catholic Worker go out every month. What shall we print? . . . We will print the words of Christ, who is with us always, even to the end of the world. "Love your enemies, do good to those who hate you, and pray for those who persecute and calumniate you, so that you may be children of your Father in heaven, who makes His sun to rise on the good and the evil, and sends rain on the just and the unjust."

We are at war, a declared war, with Japan, Germany, and Italy, But still we can repeat Christ's words, each day, holding them close in our hearts, each month printing them in the paper. In times past Europe has been a battlefield. But let us remember St. Francis, who spoke of peace, and we will remind our readers of him, too, so they will not forget.

In The Catholic Worker we will quote our Pope, our saints, our priests. We will go on printing the articles of Father Hugo, who reminds us today that we are all "called to be saints," that we are other Christs, reminding us of the priesthood of the laity.

We are still pacifists. Our manifesto is the Sermon on the Mount, which means that we will try to be peacemakers. Speaking for many of our conscientious objectors, we will not participate in armed warfare or in making munitions, or by buying government bonds to prosecute the war, or in urging others to these efforts.

But neither will we be carping in our criticism. We love our country and we love our President. We have been the only country in the world where men and women of all nations have taken refuge from oppression. We recognize that while in the order of intention we have tried to stand for peace, for love of our brothers and sisters, in the order of execution we have failed as Americans in living up to our principles.

[Dorothy urges daily, hourly prayer for an end to the war, along with acts of mercy.]

Because of our refusal to assist in the prosecution of war and our insistence that our collaboration be one for peace, we may find ourselves in difficulties. But we trust in the generosity and understanding of our government and our friends, to permit us to continue to use our paper to "preach Christ crucified."

And may the Blessed Mary, Mother of beautiful love, and of fear, and of knowledge, and of holy hope, pray for us.
Amen. Say a prayer for us when you can.
UPDATE:
A documentary to see! Check out the trailer.
UPDATE II:
How prayer helped her give up smoking.