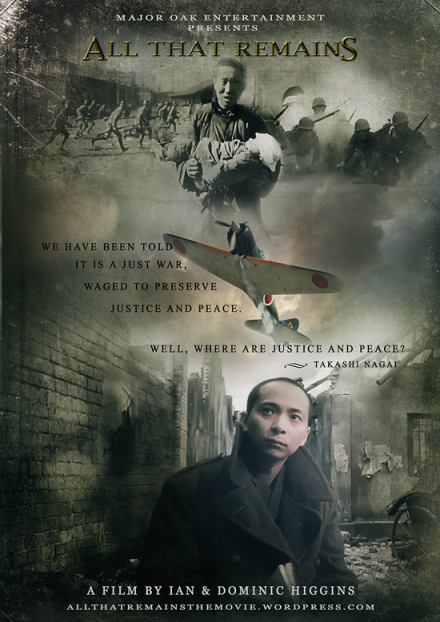 Just a brief note to say Thank You to everyone who gave to the latest (and hopefully, the last) All That Remains fundraising campaign hosted recently by Indiegogo. For those keeping track, the amount in the jar 16 days back was $45. The campaign ended in the wee early morning hours today with $3,110 dollars on tap.
Though this amount only put the project a bit short of the midpoint of the goal ($7,500), it is still amazing that this kind of money came from as few as 20 people. And with more good news, Ian Higgins reports that more donations have been received,
I want to ensure you and your readers that this movie will be made, no matter what we raise, somehow, we'll finish it. It's become a far too important project for us all, and we've all sacrificed so much already, none more so than Dominic and myself. Being Irish, we've also got plenty of fighting spirit!

Some good news also, we've had a couple of private donations of $500 and $1000 and also, as you may have read on our Facebook page, we now have a tie in with a college here in Birmingham, which happens to be the largest college of it's kind in the UK, and they've agreed to pay us each time we take on students when shooting scenes. So we've already looked at other revenue streams to help fund the production.

I'd like to address the reader who posted the comment in regards to this being an obscure film about a relatively unknown (a statement I found incredulous), the fact that he is so unknown is preciously the reason we decided to make this film – to tell the world the life story of a man now almost forgotten, but who has surely earned his place alongside the likes of Ghandi and Martin Luther King as one of the great men of the 20th Century, as a hero who deserves to be remembered. To right the wrong of his obscurity.

As for the film being obscure, give us a chance, we haven't even started marketing the film yet – we'll still half way through filming! Besides, the more people get behind us and support the project, the less obscure it will become. Suffice to say, we've already had a fair amount of interest shown from the press here in the UK.
If you missed this campaign, you can still use their Paypal account to make a donation.
Thanks again for your help and prayers. You good folks remind me of Gideons' army.
Deo Gratias