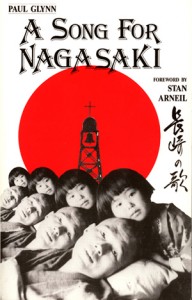 This is your cub film producer with a short post to pass the hat around for the film Ian and Dominic Higgins are making. It's the story of war, destruction, human dignity, and hope. If you missed my earlier posts about this, check out the new All That Remains tag in the tag cloud.
The story is that of the destruction of Nagasaki and how Dr. Takashi Nagai reacted to it. Below is a video with an interview with Fr. Paul Glynn, the author of A Song for Nagasaki: The Story of Takashi Nagai-Scientist, Convert, and Survivor of the Atomic Bomb. A 5-star selection over on Amazon.
The photograph at the bottom of this post is all that remains of the original cathedral at Urakamai. Right over there in the sidebar ==>>is the electronic hat. Ian & Co. still need about $7325 (heh, who's counting?) for "completion costs" to do this story justice. If you can give any amount whatsoever, please do. If you can't, please share this with someone who can. Either way, please pray for us to be able to meet this goal.
Ian has a fresh blog post up over at the Production Blog too. Go check it out. And thanks for your generosity.