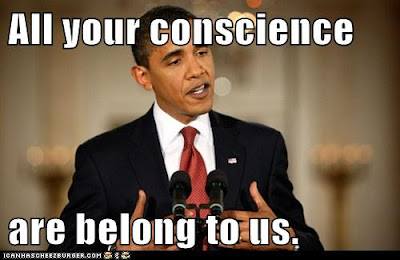 "Puttin' on hold the laws that are stinky."
Pardon me for thinking about the Schoolhouse Rock song that taught us about conjunctions. Remember it?
See how congested that rail yard is? That's how the courts are getting to be regarding the matter of the HHS Mandate.
The Thomas More Law Center is spreading the following good news,
Federal District Court Judge Robert H. Cleland of the Eastern District of Michigan, issued an opinion yesterday evening granting a motion for Preliminary Injunction that effectively halts enforcement of the HHS mandate against Plaintiffs Weingartz Supply Company and its owner and president, Daniel Weingartz. The motion was brought by the Thomas More Law Center (TMLC), a national public interest law firm based in Ann Arbor, Michigan.

Erin Mersino, TMLC's lead counsel on the case who presented the oral argument in support of Plaintiffs, commented,   "The federal court has found that our clients have a likelihood of success and would be irreparably harmed by the unconstitutional overreaching of the HHS mandate.  This is not only a victory for our clients, but for religious freedom."

The HHS mandate refers to regulations adopted by the Department of Health and Human Services that forces employers, regardless of their religious convictions, to provide insurance coverage for abortion-inducing drugs, sterilization, and contraception under threat of heavy penalties.

In ruling for the Weingartz Plaintiffs, Judge Cleland emphasized that "[t]he loss of First Amendment freedoms, for even minimal periods of time, unquestionably constitutes irreparable injury."  He concluded, "The harm in delaying the implementation of a statute that may later be deemed constitutional must yield to the risk presented here of substantially infringing the sincere exercise of religious beliefs.  The balance of harms tips strongly in Plaintiffs' favor.  A preliminary injunction is warranted."

Judge Cleland denied without prejudice the motion brought on behalf of Legatus for reasons stated below.
Injunction is a legal term that we're bound to become more familiar with in the coming months, if not years.  Here's a definition for the term.
An injunction is a court order requiring a person to do or cease doing a specific action.Temporary restraining orders and preliminary injunctions are temporary injunctions. They are issued early in a lawsuit to maintain the status quo by preventing a defendant from becoming insolvent or to stop the defendant from continuing his or her allegedly harmful actions. Choosing whether to grant temporary injunctive relief is a discretionary power of the court. Permanent injunctions are issued as a final judgment in a case. Failure to comply with an injunction may result in being held in contempt of court.
The Cornell University Law School explains it further. It's just another of the many armaments in the arsenal of justice.