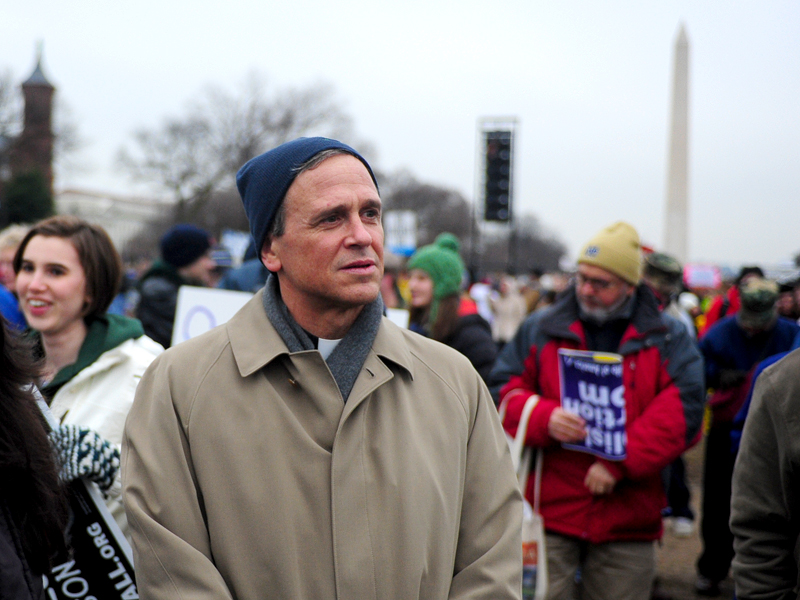 A week ago, I shared an op-ed piece written by Fr. John Jenkins, CSC. Fr. Jenkins is the President of the University of Notre Dame. Today, the Cardinal Newman Society reports that he will be attending the upcoming March for Life with approximately 700 students and faculty from South Bend. Details below,
Fr. John Jenkins C.S.C., president of the University of Notre Dame, will march in the March for Life along with about 600 students and more than a hundred faculty, according to students with the University's pro-life student group.

Fr. Jenkins has walked in the March for Life since the 2010 event. This year, however, is a little different as Notre Dame students were asked to lead the March for Life.

"In addition to the faculty and students attending the March, alumni and friends of ND will also be meeting us on the National Mall and joining our contingency," Jen Gallic of ND Right to Life told The Cardinal Newman Society. "This is will be the highest attendance ever by the Notre Dame Community."

During this past year, ND RTL has, according to Gallic, been focused on "the creation of a culture of life on campus."

"We have also taken a very pro-woman, pro-life approach. We believe the dignity inherent in all human life deserves to be cherished and celebrated," said Gallic. "As a member of the pro-life movement we cannot just oppose abortion, but also must strive to truly promote a culture of life through our actions."

While there is much concern over the direction Notre Dame has taken, especially with the diminishing number of Catholic faculty as well as the scandalous honoring of President Barack Obama in 2009, there's been little doubt about the pro-life efforts of many students.

Stephen Wandor of ND RTL told The Cardinal Newman Society that the student pro-life organization's efforts go far beyond the March once a year. "We have weekly trips to pray at the local abortion clinic as well as a weekly adoration hour to pray for the protection of all human life," he said.

Wandor also pointed to biweekly club meetings with on-campus pro-life experts, an annual "Respect Life Week," sponsoring a baby shower for local mothers every semester along with the Women's Care Center in South Bend, as well as partaking in outreach programs to seniors and those with special needs to help promote the dignity inherent in every life.
In related news, have you noticed the snazzy ad that has been posted on Patheos for about a week now from the USCCB?
On January 22nd and January 25th (the March for Life in Washington D.C.)  our nation will remember the 40th anniversary of Roe v. Wade.

Since that tragic decision, more than 55 million children's lives have been lost to abortion, and the lives of millions of their parents have been shattered.

As part of the bishops' recent call to prayer, "Nine Days of Prayer, Penance and Pilgrimage" will take place January 19-27, 2013.
Sign up by clicking on the ad in the sidebar, or by clicking on the graphic below.
Click on this!