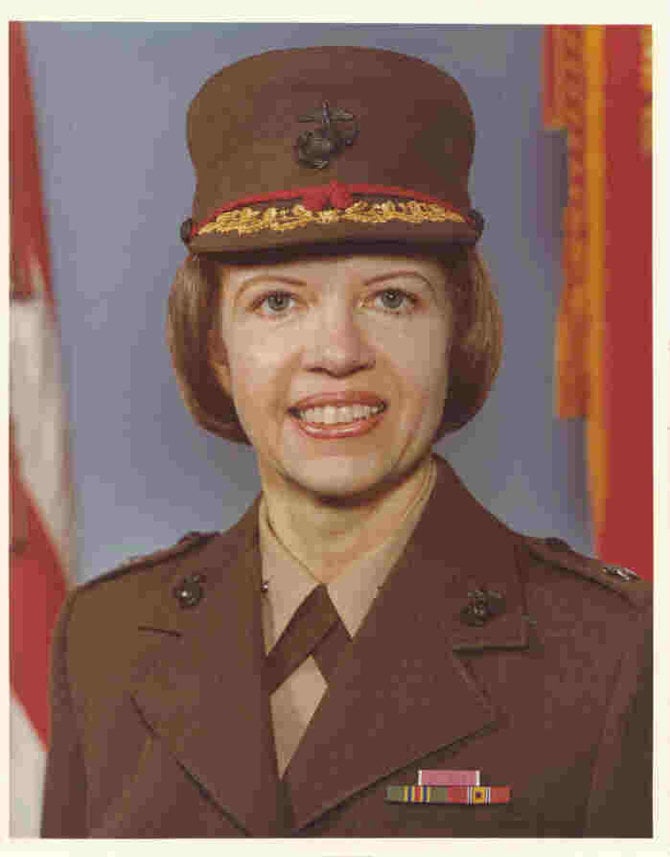 I just happened upon this news when I saw it on the official Facebook page of the U.S. Marine Corps (Marines) with this message,
"Brigadier General Brewer was an amazing and courageous woman who has left an indelible mark on the rich legacy of our Corps, and she will be missed."

Brig. Gen Brewer passed away Jan. 2. Her funeral mass will be held Monday at the Cathedral of St. Thomas More in Arlington, Va.

Semper Fidelis, Ma'am.
Catholic Herald.com, out of Arlington Virginia, noted her passing with a nod to her career in the Marine Corps as well as to her service to others through Catholic Charities and in her parish.
Retired Marine Corps Brig. Gen. Margaret A. Brewer died Jan. 2 at the age of 82.

Brewer was born in Durand, Mich., in 1930. She attended elementary school in Michigan, but graduated from the Catholic High School of Baltimore. After graduation, she enrolled at the University of Michigan at Ann Arbor where she earned a bachelor's degree in geography in 1952. She was commissioned as a second lieutenant in the Marine Corps that same year.

Brewer rose through the ranks of the Marine Corps, becoming a brigadier general in 1978. She was the first female general officer in Marine Corps history. Her first assignment as a general officer was as director of the division of information for the Marine Corps.

Brewer retired from active duty in 1980. She was awarded two Legion of Merit medals for exceptional meritorious service.

In 1981, she was appointed acting director of volunteers for Arlington diocesan Catholic Charities, beginning a long association with the agency that included serving as chair of the Planning and Development Committee for Catholic Charities.

In 1982, Brewer served as the liaison from Catholic Charities to the first Catholic Charities Ball, a relationship she continued over the years. In 2011, she was awarded the James J. Matthews Legacy Award at the ball.

Brewer was a parishioner of the Cathedral of St. Thomas More in Arlington and was active in the Brent Society.

Father Robert J. Rippy, rector, said that until recently, Brewer had been active at the Cathedral for years serving as a lector. He got to know her when she served on the Catholic Charities Ball Committee.

"(She was) a very classy lady," said Father Rippy.

The funeral Mass will be offered Jan. 14 at the Cathedral of St. Thomas More at 10 a.m. Interment will follow at Columbia Gardens Cemetery in Arlington.