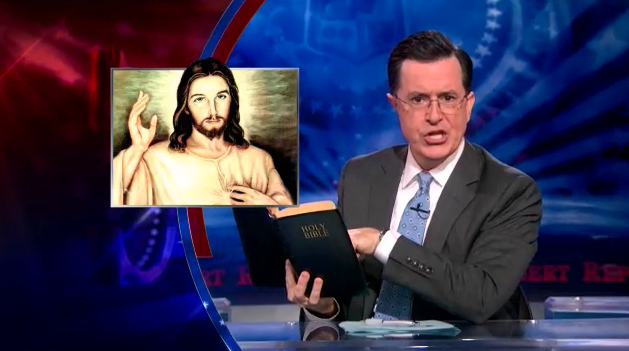 I caught Stephen Colbert interviewing Pulitzer prize winning author Garry Wills when the following clip was posted by Rod Dreher of The American Conservative. I found it to be amazing not just because Wills seems to be outfoxed by the court jester who can quote the Letter to the Hebrews with the best of them, but because of Wills' assertion that St. Augustine didn't believe in the Real Presence.
Roll clip,
I've never read any of Wills' works, but I've read enough of St. Augustine to know that his assertion rings hollow. A quick search on the interwebs reveals a treasure trove of quotes from Augustine's oeuvre to make Joe Six-Pack pretty comfortable in deciding that I'll stick with Augustine (and Justin Martyr, Irenaeus, Cyril of Jerusalem, etc.) and ignore the self-deceiving sophistry of Wills.
Take a gander at the Augustine citations found on Early Christians on the Holy Eucharist, from the Apologetics Toolkit hosted by a website out of Columbia University. Here is the thought that Wills centered his comments around Augustine upon, assuming the rest of us are ignorant of the breadth of commentary on the subject written by the Doctor of Grace,
St. Augustine, Explanations on the Psalms, A.D. 392-418, [98, 9]:
`Unless he shall have eaten My flesh he shall not have eternal life. [John 6:54-55]' [Some] understood this foolishly, and thought of it carnally, and supposed that the Lord was going to cut off some parts of His Body to give them … But He instructed them, and said to them: `It is the spirit that gives life; but the flesh profits nothing: the words that I have spoken to you are spirit and life' [John 6:64]. Understand spiritually what I said. You are not to eat this Body which you see, nor to drink that Blood which which will be poured out by those who will crucify Me. I have commended to you a certain Sacrament; spiritually understood, it will give you life. And even if it is necessary that this be celebrated visibly, it must still be understood invisibly.
But goodness, gracious, Augustines' thoughts upon the matter continue on, and on.
St. Augustine, Sermons, [227] A.D. 391-430:
… I promised you, who have now been baptized, a sermon in which I would explain the Sacrament of the Lord's Table, which you now look upon and of which you last night were made participants. You ought to know what you have received, what you are going to receive, and what you ought to receive daily. That Bread which you see on the altar, having been sanctified by the word of God, is the Body of Christ. That chalice, or rather, what is in that chalice, having been sanctified by the word of God, is the Blood of Christ. Through that bread and wine the Lord Christ willed to commend His Body and Blood, which He poured out for us unto the forgiveness of sins. If you receive worthily, you are what you have received.

St. Augustine, Sermons, [272] A.D. 391-430:
What you see is the bread and the chalice; that is what your own eyes report to you. But what your faith obliges you to accept is that the bread is the Body of Christ and the chalice the Blood of Christ. … How is the bread His Body? And the chalice, or what is in the chalice, how is it His Blood? Those elements, brethren, are called Sacraments, because in them one thing is seen, but another is understood. What is seen is the corporeal species, but what is understood is the spiritual fruit. … `You, however, are the Body of Christ and His members.' If, therefore, you are the Body of Christ and His members, your mystery is presented at the table of the Lord, you receive your mystery. To that which you are, you answer: `Amen'; and by answering, you subscribe to it. For you hear: `The Body of Christ!' and you answer: `Amen!' Be a member of Christ's Body, so that your `Amen' may be the truth.

St. Augustine, Explanations on the Psalms, [33, 1, 10] A.D. 392-418:
`And he was carried in his own hands [3 Kgs 20:13 LXX? corrupted].' But, brethren, how is it possible for a man to do this? Who can understand it? Who is it that is carried in his own hands? A man can be carried in the hands of another; but no one can be carried in his own hands. How this should be understood literally of David, we cannot discover; but we can discover how it was meant of Christ. For Christ was carried in His own hands, when, referring to His own Body, He said: `This is My Body.' For He carried that Body in His hands.

St. Augustine, Explanations on the Psalms, [98, 9] A.D. 392-418:
And adore the footstool of His feet, because it is holy [Psalm 98:9, LXX 99:9]. . .In another place in the Scripture it says: `The heavens are my throne, but the earth is the footstool of My feet' [Isa 66:1] Is it the earth, then, that He commands us to adore, since in this other place the earth is called the footstool of God's feet? . . . I am put in jeopardy by such a dilemma (Anceps factus sum): I am afraid to adore the earth lest He that made heaven and earth condemn me; again, I am afraid not to adore the footstool of My Lord's feet, but because the Psalm does say to me: `Adore the footstool of My feet.' I ask what the footstool of His feet is; and Scripture tells me: `The earth is the footstool of my feet.' Perplexed, I turn to Christ, because it is He whom I seek here; and I discover how the earth is adored without impiety, how without impiety the footstool of His feet is adored. For He received earth from earth; because flesh is from earth, and He took flesh from the flesh of Mary. He walked here in the same flesh, and gave us the same flesh to be eaten unto salvation. But no one eats that flesh unless he adores it ; and thus it is discovered how such a footstool of the Lord's feet is adored; and not only do we not sin by adoring, we do sin by not adoring.

St. Augustine, The Trinity, [3, 4, 10] A.D. 400-416:
Paul was able to preach the Lord Jesus Christ by means of signs, in one way by his letters, in another way by the Sacrament of Christ's Body and Blood; for when we speak of the Body of Christ and of His Blood, certainly we do not mean Paul's speaking, nor his parchments nor his ink, nor the meaning of the sounds issuing from his tongue, nor the signs of letters written on skins. By the Body and Blood of Christ we refer only to that which has been received from the fruits of the earth and has been consecrated by the mystical prayer, and has been ritually taken for our spiritual health in memory of what the Lord suffered for us.

St. Augustine, 172,2, circa 400 A.D.:
For the whole Church observes this practice which was handed down by the Fathers: that it prayers for those who have died in the communion of the Body and Blood of Christ, when they are commemorated in their own place in the sacrifice itself; and the sacrifice is offered also in memory of them on their behalf.

St. Augustine, "Homilies on the Gospel of John", 26, 13, 417 A.D.:
O Sacrament of piety! O sign of unity! O Bread of love! He who desires life finds here a place to live in and the means to live by. Let him approach, let him believe, let him be incorporated so that he may receive life. Let him not refuse union with the members, let him not be a corrupt member, deserving to be cut off, nor a disfigured member to be ashamed of. Let him be a grateful, fitting and healthy member. Let him cleave to the body, let him live by God and for God. Let him now labor here on earth, that he may afterwards reign in heaven.

St. Augustine, The City of God, 10, 5; 10,20, c. 426:
The fact that our fathers of old offered sacrifices with beasts for victims, which the present-day people of God read about but do not do, is to be understood in no way but this: that those things signified the things that we do in order to draw near to God and to recommend to our neighbor the same purpose. A visible sacrifice, therefore, is the sacrament, that is to say, the sacred sign, of an invisible sacrifice. . . . Christ is both the Priest, offering Himself, and Himself the Victim. He willed that the sacramental sign of this should be the daily sacrifice of the Church, who, since the Church is His body and He the Head, learns to offer herself through Him.
Here's another from Augustines' Sermon 81,
On the words of the Gospel, John 6:53 , Except you eat the flesh, etc., and on the words of the apostles. And the Psalms. Against the Pelagians.

Delivered at the Table of the Martyr St. Cyprian, the 9th of the Calends of October—23 Sept., on the Lord's day.

1. We have heard the True Master, the Divine Redeemer, the human Saviour, commending to us our Ransom, His Blood. For He spoke to us of His Body and Blood; He called His Body Meat, His Blood Drink. The faithful recognise the Sacrament of the faithful. But the hearers what else do they but hear? When therefore commending such Meat and such Drink He said, Except you shall eat My Flesh and drink My Blood, you shall have no life in you; (and this that He said concerning life, who else said it but the Life Itself? But that man shall have death, not life, who shall think that the Life is false), His disciples were offended, not all of them indeed, but very many, saying within themselves, This is an hard saying, who can hear it? But when the Lord knew this in Himself, and heard the murmurings of their thought, He answered them, thinking though uttering nothing, that they might understand that they were heard, and might cease to entertain such thoughts. What then did He answer? Does this offend you? What then if you shall see the Son of Man ascend up where He was before? What means this? Does this offend you? Do ye imagine that I am about to make divisions of this My Body which you see; and to cut up My Members, and give them to you? 'What then if you shall see the Son of Man ascend up where He was before?' Assuredly, He who could ascend Whole could not be consumed. So then He both gave us of His Body and Blood a healthful refreshment, and briefly solved so great a question as to His Own Entireness. Let them then who eat, eat on, and them that drink, drink; let them hunger and thirst; eat Life, drink Life. That eating, is to be refreshed; but you are in such wise refreshed, as that that whereby you are refreshed, fails not. That drinking, what is it but to live? Eat Life, drink Life; you shall have life, and the Life is Entire. But then this shall be, that is, the Body and the Blood of Christ shall be each man's Life; if what is taken in the Sacrament visibly is in the truth itself eaten spiritually, drunk spiritually. For we have heard the Lord Himself saying, It is the Spirit That quickens, but the flesh profits nothing. The words that I have spoken unto you, are Spirit and Life. But there are some of you, says He, that believe not. Such were they who said, This is a hard saying, who can hear it? It is hard, but only to the hard; that is, it is incredible, but only to the incredulous.
There's more, you know. Would you like for me to quote St. Thomas Aquinas too? Sigh.
The third Sacrament is the Holy Eucharist. Its matter is wheaten bread and wine from the grape mixed with a little water so that the water becomes part of the wine. The water signifies the faithful who are incorporated into Christ. Other than wheaten bread and wine from the grape cannot be the matter for this Sacrament. The form of this Sacrament is the very words of Christ, "This is My Body," and "This is the chalice of My Blood of the new and eternal testament; the mystery of faith; which shall be shed for you and for many, to the remission of sins." These words spoken by the priest in the person of Christ brings into being this Sacrament. The minister of this Sacrament is the priest; and no one else can consecrate this matter into the Body of Christ.
I think I'll stick with the guys whose names start with "S" after all. Like, St. Augustine, St. Thomas Aquinas, Sts. Justin, Irenaeus, and Cyril. Oh, and Stephen Colbert. Of course, we could knock off all this nonsense and just believe what the Church teaches about the Eucharist.
UPDATES:
Mark Shea: Garry Wills, Apostate, vs. Stephen Colbert, Catechist, wherein we learn that Wills is worried about the Papacy. Say a prayer for him.
Speaking of the Eucharist, Jesus and the Jewish Roots of the Eucharist: by Brant Pitre, did not win a Pulitzer.