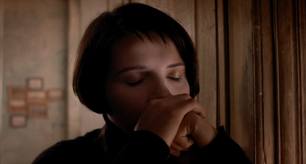 As we roll into the third Friday of Lent, I'm in the mood for another film I missed that comes highly acclaimed. Some folks have listed it as one of the best Catholic movies that have ever been made.
If you believe that is a lofty claim, and I confess that I might wonder about this too, Rotten Tomatoes ranks this film at the 100% mark. Wikipedia summarizes tonights' feature like so,
Three Colors: Blue is a 1993 French drama film written, produced, and directed by the acclaimed Polish director Krzysztof Kieślowski. Blue is the first of three films that comprise The Three Colors Trilogy, themed on the French Revolutionary ideals of liberty, equality, and fraternity; it is followed by White and Red. According to Kieślowski, the subject of the film is liberty, specifically emotional liberty, rather than its social or political meaning. Set in Paris, the film is about a woman whose husband and child are killed in a car accident. Suddenly set free from her familial bonds, she attempts to cut herself off from everything and live in isolation from her former ties, but finds that she cannot free herself from human connections.
Sounds interesting to me. Mysterious and complex. The folks over at the Criterion Collection give us three more reasons to watch this film.
Roll clip,
Good musical score too? Nice. The Cast?
Juliette Binoche as Julie de Courcy (née Vignon)
Benoît Régent as Olivier Benôit
Emmanuelle Riva as Madame Vignon, Julie's mother
Florence Pernel as Sandrine
Guillaume de Tonquédec as Serge
Charlotte Very as Lucille
Julie Delpy (cameo) as Dominique

Music composed by Zbigniew Preisner. The music is performed by the Sinfonia Varsovia (Beata Rybotycka, Elżbieta Towarnicka, Jacek Ostaszewski, Konrad Mastyło, Silesian Filharmonic Choir, Sinfonia Varsovia, Wojciech Michniewski – conductor)
First up is a dinner of baked, parmesan cheese encrusted, talapia, with pancit with shrimp (a Filipino favorite) and mashed potatoes on the side. Unlike some of you, I did not give up beer for lent, so I'll be washing dinner down with a freshly poured one of these.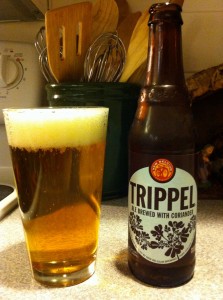 Then we'll break out the popcorn and cue up the DVD. Public libraries with free DVD rentals are cool!