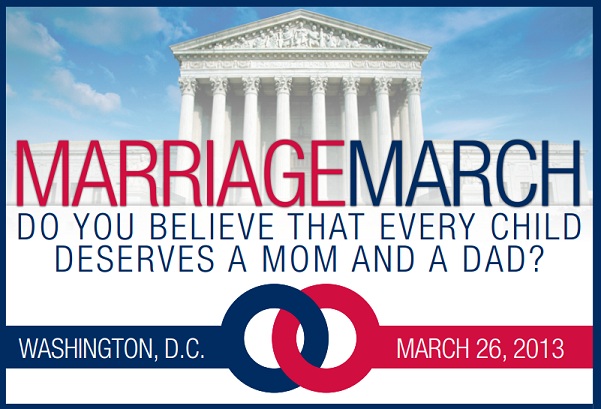 The first item is in regards to something that is happening on March 26th that you probably haven't heard anything about: The March for Marriage. Here is the press release from the National Organization for Marriage,
Washington, D.C. — Brian Brown, President of the National Organization for Marriage, welcomed a new letter sent to every Catholic bishop in America encouraging them to support and promote the March for Marriage (http://www.marriagemarch.org/) on March 26 in Washington, DC. The letter was sent by Bishop Kevin Rhoades, Chairman of the USCCB's Committee on Laity, Marriage, Family Life and Youth, and by Archbishop Salvatore Cordileone, Chairman of the Subcommittee for the Promotion and Defense of Marriage. The letter reads in part:

"We are grateful for this opportunity to express support for the Marriage March and to encourage participation in this event. We realize that the march will occur during the solemn days of Holy Week, but we ask that you consider promoting this event in your diocese and parishes and encourage participation where possible.

The march will be a significant opportunity to promote and defend marriage and the good of our nation, to pray for our Supreme Court justices, and to stand in solidarity with people of good will. It also complements well the bishops' Call to Prayer for Life, Marriage, and Religious Liberty that was approved last November. This is a decisive time for marriage in our country. We are deeply grateful for any support you can offer for this march."

"We welcome the active participation and support of the Catholic Church in the march," said Brown. "Our coalition on behalf of marriage includes a great many people and groups representing a diverse array of faith traditions, including evangelicals, Baptists, Presbyterians, and members of the Church of God in Christ and the Church of Jesus Christ of Latter-day Saints. We welcome people of every faith –and no faith at all– to join us in protecting the unique bond of marriage, the only institution that provides children with the mother and father they deserve. Those who believe in the protection of religious liberty as we do are also wise to stand strong for marriage at this decisive time."

Previous to this letter circulating, the Archdiocese of Philadelphia, which is under the leadership of Archbishop Charles Chaput, announced they would be sponsoring five buses to the March for Marriage. Brown added: "We expect and welcome more pledges of participation from other Catholic dioceses on the east coast and across the country. Now is the time for Catholics and people of all faiths to commit to marching for marriage!"

The entire letter of Bishop Rhoades and Archbishop Cordileone can be read on the USCCB website here.
Fuzzy on the whole issue of Marriage Equality? Many are. But there are resources out there that use reason to make sense of this issue.
Like the paper, "What Is Marriage?" by Sherif Girgis, Ryan T. Anderson, and Robert P. George. And don't look now, but read the review of the expanded, book length version of the paper entitled, What Is Marriage? Man and Woman: A Defense, which was published in First Things today.
Next item.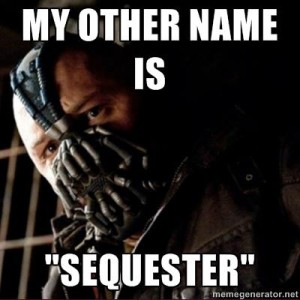 Contact your Congressional Representatives as they wander around aimlessly in the wilderness of the Sequestor! They are lost, and need our help, you see. Check out the handy talking points the USCCB has come up with,
Dear Friend of Religious Liberty:

As you know, there are major threats looming against people and groups that are opposed in conscience to providing insurance coverage for sterilizations, contraception, or abortifacient drugs, or to participating in or facilitating an abortion.

Now is the time to act! Congress will soon be considering a "must-pass" bill that will fund the federal government. Congress can include conscience protection as part of that bill and solve this problem now.

Can you spare 5 minutes to contact your Members of Congress and ask them to support conscience protection for EVERYONE? Call using the "Take Action" link or click here to email your two Senators and Representative.

Please join with us in calling on Congress to protect the right of all people and groups to participate in life-affirming health care — without violating their consciences!

Not sure what to say? Here are some suggestions:

The administration has issued a mandate requiring virtually all insurance plans to include sterilization and contraception, even including the morning-after and week-after pills. People who run secular charities, or religious or secular businesses, are being forced to buy insurance coverage for "services" to which they have a deeply held moral or religious objection — with no exceptions. I oppose forcing people to participate in, fund, or provide things they believe are wrong or immoral.

Though churches themselves are exempted from the mandate, religious ministries of service — such as charities, schools, and hospitals — are given second-class status under the law, in the form of a still-murky "accommodation." But these ministries are integral to our religious community and deserve the same exemption as our houses of worship. I oppose government action that defines our religious community narrowly and inaccurately, reducing freedom of religion to freedom of worship only.

Freedom of religion is a bedrock principle on which our nation was founded. It is referred to as our "First Freedom" — first on the list in the Bill of Rights, and first in priority among human freedoms. I support religious freedom as a fundamental human right of every person.

A distinct blessing of being an American is that we are free to choose our faith, and live by the dictates of that faith throughout our lives — at home, at church, and in the public square. Other countries may force faith underground, but in America we can follow our conscience while also participating fully in society. I support policies that allow Americans to live their faith in their jobs and in their everyday life.

In the words of Cardinal Dolan, "In obedience to our Judeo-Christian heritage, we have consistently taught our people to live their lives during the week to reflect the same beliefs that they proclaim on the Sabbath. We cannot now abandon them to be forced to violate their morally well-informed consciences." I support the right of all men and women who work in health care — whether providing services or providing insurance — to live and work in harmony with their faith and convictions.

Please contact your Congressional representatives today and urge them to take whatever action is necessary to protect religious freedom and the moral convictions of all!

For more information or to join the postcard campaign, go to NCHLA's action alert.

Thank you for all that you do in support of life and liberty!
Well, what are you waiting for? Click or call, ASAP.