Can't you tell? Me neither!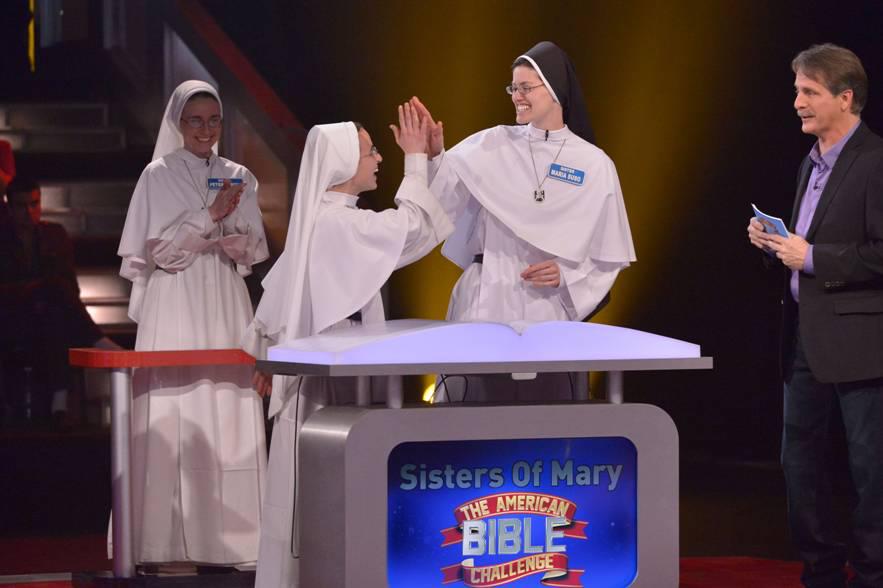 Guess what else? They will be on the premiere episode of the second season of The American Bible Challenge. Here's their team blurb from over at the Game Show Network website,
Hometown: Ann Arbor, MI

Charity: Dominican Sisters of Mary, Mother of the Eucharist. Any winnings will be used to provide for the futures of the Sisters in the Order, and to ensure that they are provided for as they advance into retirement

Team Members: Sister Peter Joseph (novice); Sister Maria Suso (Professed Sister); Sister Evangeline (novice). These three young nuns love a challenge—from soccer to Scrabble. They're very committed to religious life, and want to provide support for the Sisters in their order, especially the older Sisters, who have been sources of inspiration to them.
How about a sneak peak of the episode, and the lowdown on their competitors courtesy of Jeff Foxworthy and company.
Roll clip,
Ooooh, what a teaser. We'll have to tune in on Thursday, March 21st, to see how the sisters fared. Check your local listings!
H/T Stand with the US Bishops Against HHS , and Jeff Cavins.