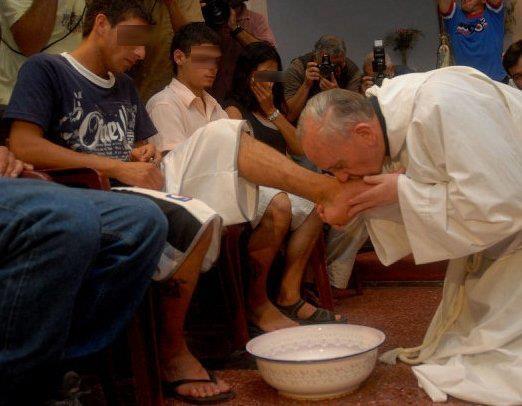 I've shared the thoughts of Heather King in this space a time or two. Unlike me though, Heather is a gifted writer, and one who actually tossed everything from her former life away in order to pursue her writing vocation. Her conversion story is an inspiring example of God's mercy at work.
The upshot? If you aren't reading her blog Shirt of Flame, you should be. Consider her post on  Pope Francis today as Exhibit A in the case to convince you to read her blog (and her books!).
The other day I had a talk with a good, kind, sensible friend who approvingly referenced an op-ed in Sunday's NYT to the effect: Why can't you Catholics focus on what you do best–serve the poor–and just shut up about sex, about which you know nothing, about which you insist on clinging to your ridiculously medieval notions that any self-respecting modern person would be mortified to voice? Having been raised in the Church and long since fallen away, my friend can't possibly see, for example, why anyone of nominal intelligence, and the Church, would not counsel every woman in the world to get birth control. If women where in charge of the Church, she is sure THEY would change the "law"…

How can you tell people you have been saved from the abyss and thus live in a state of insane bizarre grace and that you offer up your sexuality out of love? That to manage and control human creation, to the lover of Christ, seems monstrous? That when we say "I believe in God" we are really saying, "I view life as a gift, not as a possession"…

It's the secular world that's obsessed with sex. It's the secular world that has divorced sex from life. In my sixteen years in the Church I have never heard a single homily in which the priest exhorted the congregation that birth control is wrong, extramarital sex is wrong, being gay is wrong, gay sex is wrong. I've hardly heard those things mentioned. I have heard countless homilies about mercy, sacrifice, our longing hearts, our brokenness, our stumbling search to learn how to love.
I agree with Heather about the secular world's obsession. I'm the doofus who wrote a post with the following title, remember? When You Worship the Orgasm, Is Celibacy a Sin? (Tales from the MSM Catechism).
There are a few other posts worth your time today too. Gregory Popcak noted something that Pope Francis said in his homily yesterday that may be lost in the shuffle which is also related to this obsession in a nuanced way. The Popes' admonition to "Keep watch over your emotions!"
Because Pope Francis understands from experience what it's like to be "dazzled by a girl." To claim that the Church is right about the poor, and wrong about sex is to miss the fact that the Church knows well the many facets of the human person, in all of our dimensions.