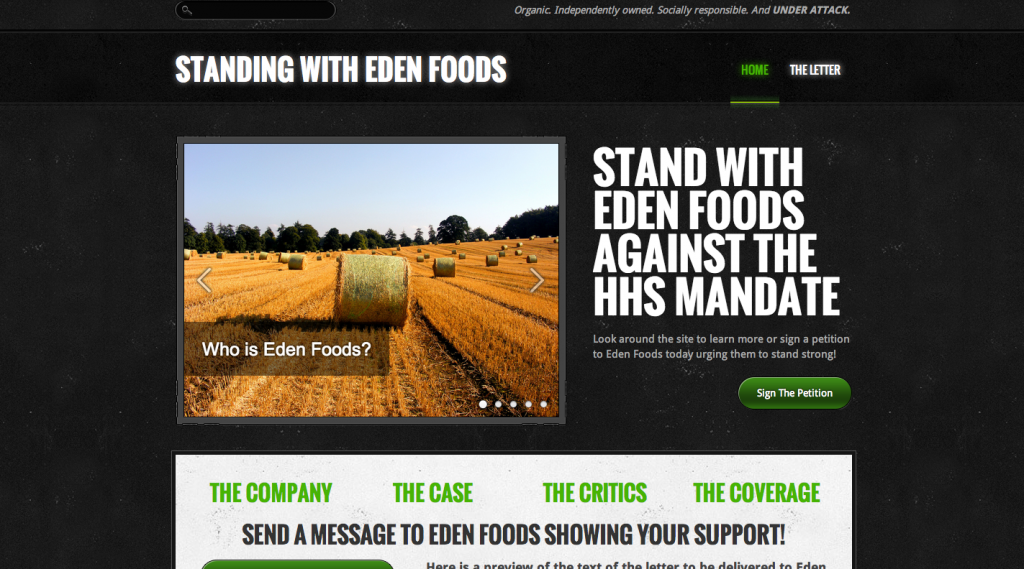 Put together by grassroots supporters of the company "who believe in the justice of the cause against the HHS Mandate expressed in the lawsuit filed on behalf of the company," it's called simply Standing With Eden Foods, and it's packed with handy information.
There's even a way for you to add your electronic signature to a letter that will be sent to Michael Potter and the firm showing your support as well. It reads as follows,
Dear Mr. Potter and Eden Foods,

Thank you for your courageous stand against the unjust  HHS Mandate! You are right to file suit to have your First Amendment rights upheld. Please know that I stand with you against the HHS and the naysayers in our culture who seek to intimidate you into compliance. I pledge my support, my prayers, and – whenever and however possible – my consumer loyalty and trust.


Sincerely,  




www.StandingWithEdenFoods.com 




On behalf of the Undersigned
Bookmark Standing with Eden Foods and share it with others.
While you're at it, browse their on-line store, or find your local retailer that carries Eden Foods products, and become a customer (if you aren't already) today. Like them at their Facebook page too.
Not sure why I'm blogging about Eden Foods? Go here.