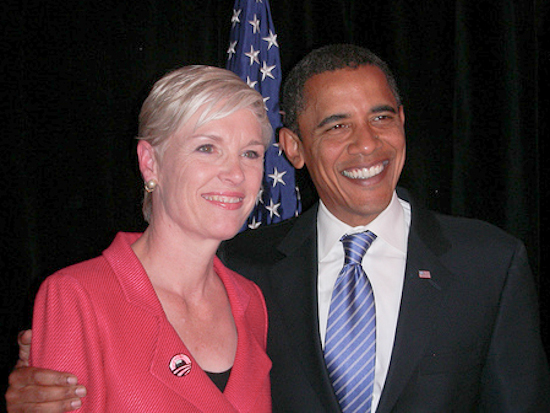 But, ahem, it is not a result of the outcry the Gosnell trial has raised. But don't get too comfortable. Instead of digging into the roots of Planned Parenthood, and learning what Margaret Sanger was really up too back in the day, he'll come by for breakfast on Friday morning instead.
President Obama has canceled plans to deliver a keynote address at Planned Parenthood's annual fundraising dinner Thursday night after critics decried his high-profile role at the abortion rights group amid new concerns about the brutality of illegal forms of abortion.

White House spokesman Jay Carney announced the decision to cancel the keynote speech at the gala during his daily press briefing with reporters Wednesday. He attributed the schedule change to Mr. Obama's desire to spend more time at a memorial service in Waco, Texas, for family members of the victims of the fertilizer plant explosion.

Mr. Carney said the president will still address Planned Parenthood and its supporters Friday morning. Still, the shift to a lower-profile address at a more low-key morning event, rather than an evening gala fundraiser, is significant.

Earlier this week, abortion opponents pressed Mr. Obama to rescind his agreement to speak at the Planned Parenthood fundraiser, considering the gruesome revelations emanating from the trial of Philadelphia abortion doctor Kermit Gosnell.

Lila Rose, who heads the anti-abortion group Live Action, said the accounts by Mr. Gosnell's former clinic staff have "shell-shocked the nation."

"It is incumbent upon the president to reconsider his support for the abortion industry and Planned Parenthood, which last year profited from abortion $87 million committing over 300,000 abortions," she said Tuesday.