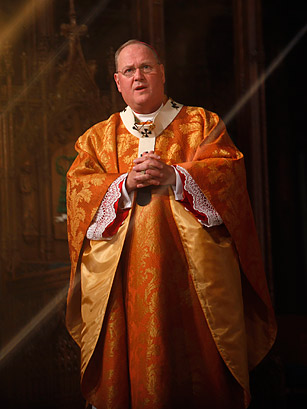 Kathryn Jean Lopez, a blogger neighbor of mine here at Patheos, and a writer for National Review Online, has been closely following the story that the New York Times published back on Sunday. More importantly, she has been following the response of Cardinal Timothy Dolan after the story was published.
In a blog post, Ms. Lopez expressed the sentiment that she wished everyone followed Cardinal Dolan's radio show over on the Catholic Channel broadcast on Sirius/XM Satellite Radio. At 200 bucks a year (and $3.50 a month to listen to the show on-line), I'm just thankful that Ms. Lopez listened for us.
Here's a snippet from her post on Patheos regarding Cardinal Dolan's demeanor on this issue.
— his tone was not of a media savvy spinmeister bishop trying to fix bad press — it was of a pastor who himself was scandalized by the whole thing. And this, I might add, is a man who has seen some of the worst, having been assigned to priest abuse and reforms in St. Louis and Milwaukee.

The scandal was not in being exposed by the New York Times, for this was something he knew about and had previously publicly indicated was the case.

He sounded as if this might be what he takes to the Blessed Mother in prayer: That in recent decades people in the Church have contributed to the problems, have contributed to the culture of death, sometimes unintentionally. Please walk with me, walk with us, as we bring Christ's healing to this world — and His Church.
Here's a snippet from her piece over on NRO,
On the Tuesday episode of his radio show, Dolan addressed the issue in a tone of both sorrow and resolve, emboldened just weeks before the bishops' second Fortnight for Freedom prayer and education effort in the run-up to Independence Day. Talking about the Fortnight plans on another radio show, Baltimore's Archbishop Lori asserted: "We are really at the outset of a movement that includes other religious faiths and communities, and a lot of other people of good will, to really make sure that religious freedom does not disappear from this country."

In response to the Times piece, Cardinal Dolan recalled that when deciding to sign onto a lawsuit against HHS over the "preventative services" mandate, archdiocesan officials warned him "you need to know that there might be one or two groups that under our Catholic Charities umbrella . . ." He explained how it happened: "Sadly, 20 years ago, my predecessor fought it tooth and nail" and ultimately "compl[ied] under duress."

He called the situation "odious" and argued that it "only points out the urgency" that we fight this latest government overreach and "why we need to stand firm" on threats to conscience rights.

In a statement, the spokesman for the diocese, Joe Zwilling, points out that the Times piece "incorrectly equates the health care benefits of the members of Union 1199 – including those 1199 employees at Catholic facilities – with the Health and Human Services mandate that improperly attempts to define the Church's religious ministry and could force religious employers to violate their conscience. The Constitution and other provisions of federal law prohibit the government from imposing the mandate on the Archdiocese. A labor union is not subject to the same constraints as the federal government in this regard, and so the fact that 1199 requires these benefits as part of its plan does not excuse the government's violation of the Archdiocese's federal rights."

A friend close to the situation adds that we best not forget "the most offensive aspect of the HHS mandate is not just the money flow, but the coerced speech . . . The HHS mandate would require us to list contraception and emergency contraception in our own plan booklets, endorsed by us, distributed by us, explained by us, counseled by us."

This union story the Times highlighted Monday is a window into the "ski slope," as Cardinal Dolan put it Tuesday, that has lead to the point where the federal government would coercively mandate that Americans provide not just "birth control" employee insurance coverage — as the Times leads with – but sterilization and abortion-pill coverage.

Further addressing the connections between the story of union power politics and the HHS mandate fight, Dolan said: "If we give in now, they will not leave us alone. No. That never happens." Twenty years ago, it was a union. Today it is the federal government, in a regulation it has manipulatively demogogued into utter confusion.
I suspect we'll be reading a blog post by Cardinal Dolan on these issues soon. Our Lady, Undoer of Knots, pray for us!
RELATED:
For Catholicism Or Casuistry? I Choose The Former…