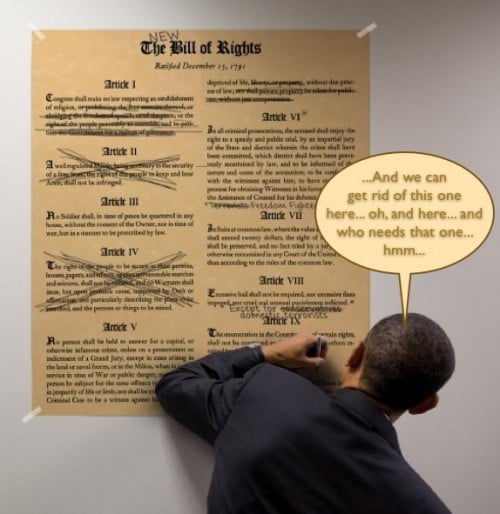 The short answer is, "No." The long answer is "show me where it says that (or even implies it) in the Constitution, and the amendments to the same (particularly in the Bill of Rights)."
What about when it comes to the HHS Mandate, which requires nonreligious entities provide coverage for artificial contraceptions, abortion services, etc.?
Mark Rienzi, Senior Counsel, The Becket Fund for Religious Liberty, has some thoughts around this issue which he shares in a post we wrote recently that bears the title, Obama, God, and the Profits (heh!). Here's a taste,
A surprising and public rift opened up last week between President Obama and his lawyers over whether profit-making businesses can pursue goals other than making money, including adhering to religious requirements.

In courtrooms across the country—including one yesterday in Philadelphia—Department of Justice lawyers told judges that profit-making businesses with religious objections to the HHS contraceptive mandate cannot exercise religion. Profit-making business apparently can pursue just one goal: making money. Business owners must check their religious values at the door.

Elsewhere in the country, however, President Obama offered the opposite message to a group of men graduating from Morehouse College. He urged them to forge careers in business, but to avoid focusing solely on profits. Instead, they should consider "what broader purpose your business might serve" by pursuing values other than profits, like "transforming a neighborhood." The President's comments echoed his remarks last year at the National Prayer Breakfast, where he proclaimed that leaving our "values at the door" would "abandon much of the moral glue that has held our nation together for centuries."

The President is right and his lawyers are wrong.

Businesses act on principles beyond the pursuit of profit every day. Vegan markets refuse to sell animal products because they are ethically opposed to hurting animals. Some employers have long provided benefits to same-sex partners based on the moral view that doing so is right and just. Some investment funds refuse to invest in fossil-fuel companies because they view them as destructive. Businesses following moral, ethical, philosophical, and environmental principles are all around us.

Similarly, some businesses operate according to religious principles. The Hahn family, for example, are Mennonite Christians who run Conestoga Wood, a cabinet-making company in East Earl, PA. They have long followed the President's admonition to consider the "broader purpose" their business might serve, and to avoid leaving their "values at the door." Yet yesterday they heard government lawyers tell judges that because their company earns money, the Hahns cannot follow their religion while they work. The government seeks to impose crushing fines on the Hahns ($95,000 dollars every day) unless the Hahns will start violating their religion and paying for drugs that they believe cause abortions.

The lawyers have it all wrong. Earning money doesn't suddenly give the government the right to extinguish your constitutional rights. The New York Times Company is a profit-making corporation, but it obviously has free speech rights. Many doctors provide abortions for profit, but of course the government could not stop them just because they make money. We don't trade in our constitutional rights when we earn a living.
Sarah Torre, by way of the Heritage Foundation via Lifenews, reports on the progress of other firms who have filed suit against the Department of Health & Human Services.
Over the next few weeks, two more family businesses will be in federal courts seeking relief from the mandate. Already, 19 of 26 plaintiffs who have had rulings touching on the merits of their cases have been awarded stays against the coercive rule. In total, more than 190 plaintiffs are involved in over 50 cases.

But even if the mandate is rescinded or thrown out by a court, the government will retain the authority through other parts of ObamaCare to coerce insurance companies and employers and trample on individuals' constitutional freedoms by imposing additional objectionable mandates.

Employees and individuals should be able to choose health care that best fits the needs of their families and respects their freedom. Employers should be able to build and grow job-creating businesses in accordance with their values without threat of government penalties. The first step on the road to regaining that freedom is rescinding the ObamaCare anti-conscience mandate—and protecting Americans' liberties more generally will require full repeal of ObamaCare.
While you're catching up on the news, you might be interested in what Peggy Noonan writes about the IRS Scandal over at her blog at The Wall Street Journal.
I got an email last night that had the effect of a clarifying conversation. It was from a smart friend who works in government. He understood the point I was trying to make about how the current IRS scandal is different from previous ones and more threatening to the American arrangement. I had written that this scandal isn't a discrete event in which a president picks up a phone and tells someone in the White House to look into the finances of some steel industry executives, or to check out the returns of some guy on an enemies list.

But my friend got to the essence. He wrote, "The left likes to say, 'Watergate was worse!' Watergate was bad—don't get me wrong. But it was elites using the machinery of government to spy on elites. . . . It's something quite different when elites use the machinery of government against ordinary people. It's a whole different ball game."

It is.

That's exactly what I meant.

In previous IRS scandals it was the powerful abusing the powerful—a White House moving against prominent financial or journalistic figures who, because of their own particular status or the machineries at their disposal, could pretty much take care of themselves. A scandal erupts, there are headlines, and then people go on their way. The dreadful thing about this scandal, what makes it ominous, is that this is the elites versus regular citizens. It's the mighty versus normal people. It's the all-powerful directors of the administrative state training their eyes and moving on uppity and relatively undefended Americans.
We are definitely living in interesting times.