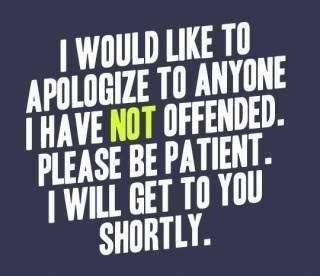 From The Independent, with a dateline out of Edinburgh, the noted author observes that we're all too offended nowadays. What? You hadn't noticed?
The Booker Prize-winning novelist Salman Rushdie spoke out against a new "culture of offendedness" yesterday, saying that people increasingly "define ourselves by hate".

Image Credit: Mariusz Kubik

Speaking to a sellout crowd on the opening day of the Edinburgh International Book Festival, the Midnight's Children author said: "I do think that one of the characteristics of our age is the growth of this culture of offendedness. It has to do with the rise of identity politics, where you're invited to define your identity quite narrowly – you know, Western, Islamic, whatever it might be."He continued: "Classically, we have defined ourselves by the things we love. By the place which is our home, by our family, by our friends. But in this age we're asked to define ourselves by hate. That what defines you is what pisses you off. And if nothing pisses you off, who are you?"

His comments came in a week in which internet hatred has topped the agenda. Rushdie has first-hand experience of being a figure of hate after living under a fatwa for a decade after the publication of The Satanic Verses in 1988.

He ascribed the new hatred to the fall of Communism and the rise of religious fanaticism, among other things. "Instead of there being one Iron Curtain, there became lots and lots of little enclaves with people fighting to the death about their own little mindset or their own tribalism. And then religious fanaticism happened, which is not only Islamic. In India, there is the rise of Hindu nationalism, and in America the increased power of the Christian church."
OK, I chuckled a little bit at the end of that, what with the bit about the "increased power of the Christian Church" in America, but I think what Rushdie is saying is an observation of something that has become pretty obvious.
The maddening thing? It's nothing new. This turning of our indignation into the art of being outraged, the "Way of High Dudgeon?" It's been raging since the Fall.
In fact, even Rushdie's diagnosis of the causes behind tribalism and outrage is kind of stale. After all, there is nothing new under the sun. A few lines from Samuel Butler's mock epic Hudibras, penned between 1663-1678 should suffice as an example of my paraphrase of Qoheleth's wise words.
When civil dudgeon first grew high,
And men fell out they knew not why?
When hard words, jealousies, and fears,
Set folks together by the ears,
And made them fight, like mad or drunk,
For Dame Religion, as for punk;
Whose honesty they all durst swear for,
Though not a man of them knew wherefore:
When Gospel-Trumpeter, surrounded
With long-ear'd rout, to battle sounded,
And pulpit, drum ecclesiastick,
Was beat with fist, instead of a stick;
Then did Sir Knight abandon dwelling,
And out he rode a colonelling.
A wight he was, whose very sight wou'd
Entitle him Mirror of Knighthood;
That never bent his stubborn knee
To any thing but Chivalry;
Nor put up blow, but that which laid
Right worshipful on shoulder-blade;
Chief of domestic knights and errant,
Either for cartel or for warrant;
Great on the bench, great in the saddle,
That could as well bind o'er, as swaddle;
Mighty he was at both of these,
And styl'd of war, as well as peace.

****

For his Religion, it was fit
To match his learning and his wit;
'Twas Presbyterian true blue;
For he was of that stubborn crew
Of errant saints, whom all men grant
To be the true Church Militant;
Such as do build their faith upon
The holy text of pike and gun;
Decide all controversies by
Infallible artillery;
And prove their doctrine orthodox
By apostolic blows and knocks;
Call fire and sword and desolation,
A godly thorough reformation,
Which always must be carried on,
And still be doing, never done;
As if religion were intended
For nothing else but to be mended.
A sect, whose chief devotion lies
In odd perverse antipathies;
In falling out with that or this,
And finding somewhat still amiss;
More peevish, cross, and splenetick,
Than dog distract, or monkey sick.
That with more care keep holy-day
The wrong, than others the right way;
Compound for sins they are inclin'd to,
By damning those they have no mind to:
Still so perverse and opposite,
As if they worshipp'd God for spite.
The self-same thing they will abhor
One way, and long another for.
Free-will they one way disavow,
Another, nothing else allow:
All piety consists therein
In them, in other men all sin:
Rather than fail, they will defy
That which they love most tenderly;
Quarrel with minc'd-pies, and disparage
Their best and dearest friend, plum-porridge;
Fat pig and goose itself oppose,
And blaspheme custard through the nose.
Th' apostles of this fierce religion,
Like MAHOMET'S, were ass and pidgeon,
To whom our knight, by fast instinct
Of wit and temper, was so linkt,
As if hypocrisy and nonsense
Had got th' advowson of his conscience.
I going to have to read the rest of that later. Rushdies' thoughts and Butler's verses aside, I am reminded of something Tom McDonald posted a while back. It's a little video of Peter Kreeft talking about how love fights.
'Tis a paradox, forsooth. And though it pains us to read Rushdie's accusation that religion is to blame for this culture of intolerant and curmudgeonly backbiters, we can't help but see the truth in the caricature painted by Butler's poetry either.
What to do? Remember the counsel of St. Philip Neri,
It is very useful for those who minister the word of God, or give themselves up to prayer, to read the works of authors whose names begin with S, such as Saint Augustine, Saint Bernard, &c.
How about something by Saint Bonaventure?
Now at the Creation, man was made fit for the repose of contemplation, and therefore God placed him in a paradise of delight [Gen., 2, 16]. But turning himself away from the true light to mutable goods, he was bent over by his own sin, and the whole human race by original sin, which doubly infected human nature, ignorance infecting man's mind and concupiscence his flesh.

Hence man, blinded and bent, sits in the shadows and does not see the light of heaven unless grace with justice succor him from concupiscence, and knowledge with wisdom against ignorance. All of which is done through Jesus Christ, Who of God is made unto us wisdom and justice and sanctification and redemption [I Cor., 1, 30].

He is the virtue and wisdom of God, the Word incarnate, the author of grace and truth–that is, He has infused the grace of charity, which, since it is from a pure heart and good conscience and unfeigned faith, rectifies the whole soul in the threefold way mentioned above. He has taught the knowledge of the truth according to the triple mode of theology–that is, the symbolic, the literal, and the mystical–so that by the symbolic we may make proper use of sensible things, by the literal we may properly use the intelligible, and by the mystical we may be carried aloft to supermental levels.

Therefore he who wishes to ascend to God must, avoiding sin, which deforms nature, exercise the above-mentioned natural powers for regenerating grace, and do this through prayer. He must strive toward purifying justice, and this in intercourse; toward the illumination of knowledge, and this in meditation; toward the perfection of wisdom, and this in contemplation.

Now just as no one comes to wisdom save through grace, justice, and knowledge, so none comes to contemplation save through penetrating meditation, holy conversation, and devout prayer. Just as grace is the foundation of the will's rectitude and of the enlightenment of clear and penetrating reason, so, first, we must pray; secondly, we must live holily; thirdly, we must strive toward the reflection of truth and, by our striving, mount step by step until we come to the high mountain where we shall see the God of gods in Sion [Ps., 83, 8].
There is a reason why another poet identified Christians with the phrase daily improving, and why St. Paul said what follows to the Colossians,
So if you have been raised with Christ, seek the things that are above, where Christ is, seated at the right hand of God. Set your minds on things that are above, not on things that are on earth, for you have died, and your life is hidden with Christ in God. When Christ who is your life is revealed, then you also will be revealed with him in glory.

Put to death, therefore, whatever in you is earthly: fornication, impurity, passion, evil desire, and greed (which is idolatry). On account of these the wrath of God is coming on those who are disobedient. These are the ways you also once followed, when you were living that life. But now you must get rid of all such things—anger, wrath, malice, slander, and abusive language from your mouth. Do not lie to one another, seeing that you have stripped off the old self with its practices and have clothed yourselves with the new self, which is being renewed in knowledge according to the image of its creator. In that renewal there is no longer Greek and Jew, circumcised and uncircumcised, barbarian, Scythian, slave and free; but Christ is all and in all!

As God's chosen ones, holy and beloved, clothe yourselves with compassion, kindness, humility, meekness, and patience. Bear with one another and, if anyone has a complaint against another, forgive each other; just as the Lord has forgiven you, so you also must forgive. Above all, clothe yourselves with love, which binds everything together in perfect harmony. And let the peace of Christ rule in your hearts, to which indeed you were called in the one body. And be thankful. Let the word of Christ dwell in you richly; teach and admonish one another in all wisdom; and with gratitude in your hearts sing psalms, hymns, and spiritual songs to God. And whatever you do, in word or deed, do everything in the name of the Lord Jesus, giving thanks to God the Father through him.