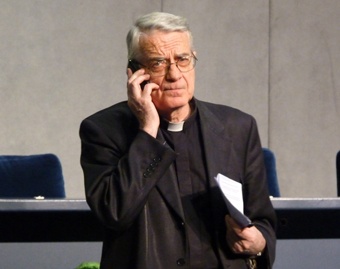 Two things.
A) It is a survey, not a poll and, B) it was sent to the bishops, not to every member of His Majesty's ship's company.  EWTN News has the gouge.
The director of the Holy See press office has clarified that Pope Francis has not presented a questionnaire to Catholics worldwide to consult on homosexual unions and divorced persons, as some news outlets have reported.

This assertion, made by Italian daily il Fatto Quotidiano among others, is "not true" and in fact the basis is "only a document sent to bishops' conferences throughout the world by the secretary general of the synod of bishops, Archbishop Lorenzo Baldisseri, in preparation for the synod of bishops," Fr. Federico Lombardi told EWTN News Nov. 2.

He added that the synod, which will be held Oct. 5-19, 2014, will be dedicated to "the pastoral challenges of the family in the context of evangelization." The synod will focus on pastoral responses to the problems of divorce and gay marriage, as well as other challenges to the health of families.

But on Nov. 1, the National Catholic Reporter characterized the document sent to bishops' conferences as "a Vatican survey asking (Catholics') opinions on church teachings."

The same day, il Fatto Quotidiano, a leftist and populist publication based in Rome, wrote that "the decision of Francis to listen, on such delicate themes, to the voice of the faithful, is absolutely unprecedented."

In fact, the process of requesting input from around the world for a synod of bishops is well precedented; the previous Synod on the New Evangelization, held in 2012, also asked bishops' conferences to encourage discussion of topics related to evangelization and summarize their findings.
You may exhale now. Carry on.
Wait! This just in from Vatican Radio…
Bishop Hine welcomes the decision to send out this questionnaire seeking input from lay Catholics around the world ahead of next year's Synod describing it as "extremely significant" and saying it's already received an enthusiastic feedback from the faithful. "It really responds to the desire for the people, the laity in the Church to be consulted on matters which concern them so deeply." "Couples are delighted that they're going to be involved in the consultations," he says.

Bishops Hine also says he finds this initiative "extremely refreshing" but goes on to warn that "it will, of course, raise expectations (from the lay faithful) and we have to recognize that and be prepared to work at meeting those expectations in some way."
What did you expect, an organized religion?