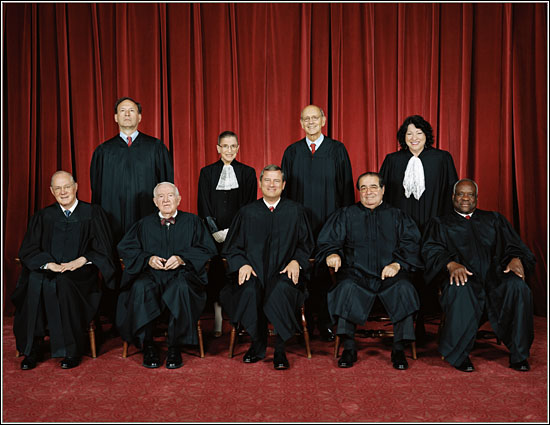 The Associated Press shared the news a few minutes ago.
WASHINGTON (AP) — The Supreme Court has put same-sex marriages on hold in Utah, at least while a federal appeals court more fully considers the issue.

The court issued a brief order Monday blocking any new same-sex unions in the state.

The order follows an emergency appeal by the state following the Dec. 20 ruling by U.S. District Judge Robert Shelby that the state's ban on same-sex marriage violates gay and lesbian couples' constitutional rights.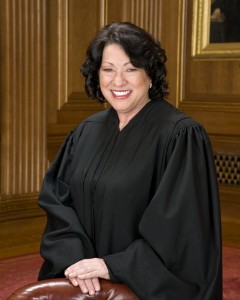 According to the order, Justice Sotomayor granted the stay, and referred it to the full court.
The application for stay presented to Justice Sotomayor and by her referred to the Court is granted. The permanent
injunction issued by the United States District Court for the District of Utah, case No. 2:13-cv-217, on December 20, 2013, is
stayed pending final disposition of the appeal by the United States Court of Appeals for the Tenth Circuit.
She's been pretty busy lately.
Over at SCOTUS Blog, Lyle Denniston opines,
The order appeared to have the support of the full Court, since there were no noted dissents. The ruling can be interpreted as an indication that the Court wants to have further exploration in lower courts of the basic constitutional question of state power to limit marriage to a man and a woman. Had it refused the state's request for delay, that would have left at least the impression that the Court was comfortable allowing same-sex marriages to go forward in the 33 states where they are still not permitted by state law.

Since the Monday order provided no explanation, it was not clear which of the arguments made by state officials had been convincing to the Justices. The state had argued, among other things, that U.S. District Judge Robert J. Shelby's decision nullifying Utah's ban had preempted the power of the Supreme Court to be the final arbiter on that question. The state also had contended that its interest in enforcing its ban would have been undercut by a refusal of a stay. And it had said that it would be difficult to untangle marriages that had occurred in the meantime, if the ban were ultimately upheld in the courts.

The state had asked for a delay from Justice Sonia Sotomayor, who handles such emergency requests from the geographic region that includes Utah — that is, the Tenth Circuit. She referred it to the full Court rather than acting alone.

The Court appeared not to have labored over what to do with the request: it acted within a short time after the final written filing had been submitted by state officials, earlier in the day.
Stay tuned.
UPDATES
National Organization for Marriage Commends US Supreme Court for Staying Utah Federal Judge's Ruling Redefining Marriage.