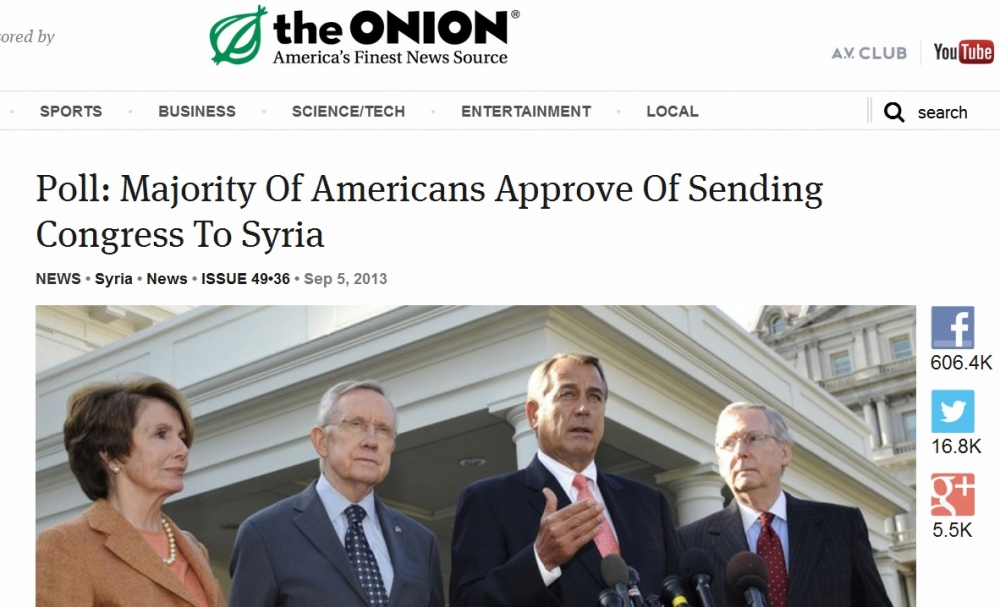 Sure, The Onion is the best thing going when it comes to humorous, satirical, "news." But what really makes The Onion successful is how they often hit truth right on the head, just like an expert marksmen hits a target in the bullseye. And the hit this time is particularly timely.
Recall that there has been a lot of discussion on catechesis, religious education, and evangelization  around here, ever since Joanne McPortland posted her cri de coeur, What's Really Wrong with Catholic Religious Education? Everything, a few weeks ago. Many of the Patheos Catholic bloggers have weighed in on the subject as well. You can find all of those posts over at the Patheos main page under the heading, Rethinking Catholic Religious Education.
But back to The Onion.  Today, see,  they posted one of their "commentary" pieces that comes pretty close to nailing down what our restless hearts are actually yearning for. Can you say a relationship with a certain person of the Blessed Trinity? Take a look.
Hello, Do You Have A Moment To Tell Me About Jesus Christ?

Hello, sorry to bother you, but I was hoping I could borrow just a minute of your time. You see, lately I've been thinking about whether there's something more to life, something I've been missing. There are even times when I feel like I've lost my way and may never find it again. So while I really don't want to intrude, I was wondering if you might have a moment to tell me about our Lord and Savior Jesus Christ.

It won't take long.

Would you mind coming in and sitting down? Just to speak with me for a little bit? If now's not a good time, don't worry. You can come back. Do you have a pamphlet or something? It would be great to have some information about how God is always there for me. Though I suppose it isn't possible that God could be there for me all the time, is it?

Anyhow, if you have some literature—even a whole book—maybe you could leave it with me so that I can look it over, and then you could stop by and talk to me about it later, whenever it's convenient for you. Better yet, is there a place in my community I could visit to find out more about the sacrifice Jesus made for me? I'd be interested in learning about something like that.

Also, I haven't heard the good news, but I certainly would like to.

While I'm sure you can't stay long, I just wanted to say that somewhere deep inside, a part of me believes that, hey, maybe God has a wonderful plan for my life. Do you think He has great things in store for me? And is there really a heaven awaiting us after this life? I'd enjoy hearing more about your faith, particularly if you have any thoughts about God's love, and whether it's everlasting and pure. It might be, it might not be, I haven't a clue. Would you let me know?

I mean, if I were to die today, where would I spend eternity? I have no idea.

Also, and I know you have places to go and things to do so I'll try not to take up too much more of your time here, but would you have just a couple more minutes to explain to me how prayer works? I know it can't be as easy as simply sitting down and starting a conversation with God. And maybe it's a moot point in my case—after all, why would He want anything to do with someone as flawed and sinful as me?
Read it all, if you can bear it. Read it even if you think you can't bear it.
Because though it's highly unlikely that someone is going to be as receptive as to go out of their way to invite you in to chat about Jesus, the Church, your doubts, fears, and source of peace, etc., the piece is pretty on the mark regarding the questions folks actually have, and their desire to hear the Good News proclaimed (kerygma), and see it lived. Just ask the folks at St. Paul Street Evangelization. They can tell you. Or you can look inside your own heart, which is a lot quicker to refer to.
It's like this scene that St. Luke describes to us in his gospel,
He came to Nazareth, where he had grown up, and went according to his custom* into the synagogue on the sabbath day. He stood up to read
and was handed a scroll of the prophet Isaiah. He unrolled the scroll and found the passage where it was written:

"The Spirit of the Lord is upon me,
because he has anointed me
to bring glad tidings to the poor.
He has sent me to proclaim liberty to captives
and recovery of sight to the blind,
to let the oppressed go free,
and to proclaim a year acceptable to the Lord."

Rolling up the scroll, he handed it back to the attendant and sat down, and the eyes of all in the synagogue looked intently at him. He said to them,

"Today this scripture passage is fulfilled in your hearing."

And all spoke highly of him and were amazed at the gracious words that came from his mouth. 
Uh-huh.
Our restless hearts on display in The Onion? Maybe only I can see it. Reminds me of a song, even.