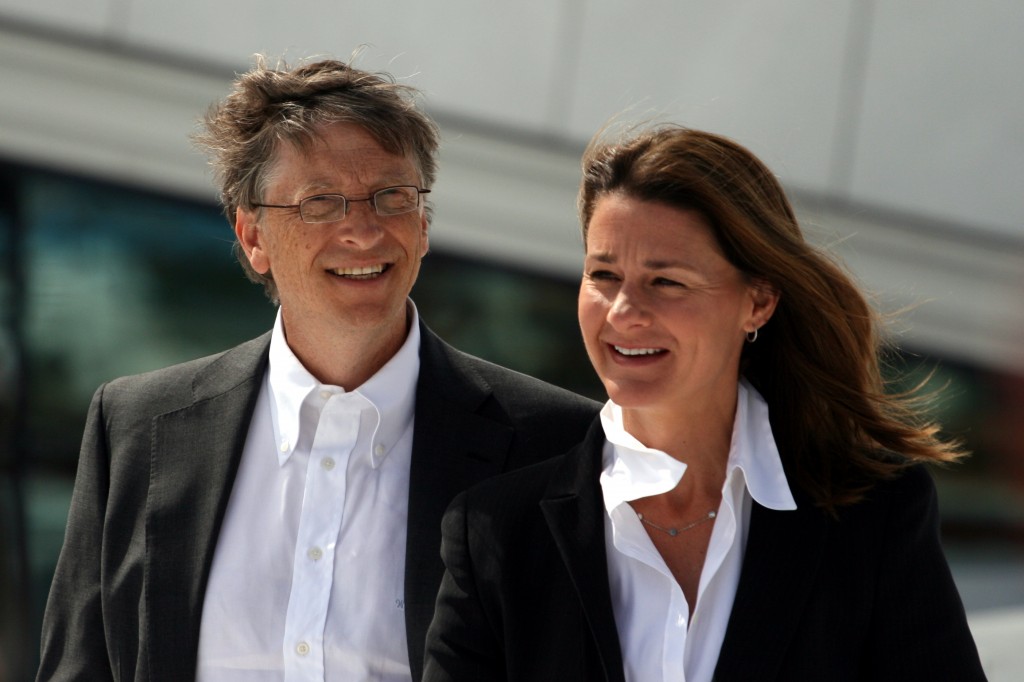 I don't know the answer to either question, actually. Only they, and God, know. I mention it only because in a recent interview in Rolling Stone, Gates mentioned that he attends a Catholic Church with his wife Melinda, and that they have raised their children in the Church. As for Westboro Baptist's founder, I learned that he is on his deathbed AND has been "excommunicated" from the church he started.
Let's look at what the founder of Microsoft said first. The interview follows the standard format, where the interviewer assumes Mr. Gates, due to his success, wealth, position, or a combination of all three, has better insights into a number of things than do you or I. He's asked questions regarding everything from cloud computing and the rollout of Obamacare, to questions about terrorism. The big religious/Catholic quotes came from the the final two questions,
You're a technologist, but a lot of your work now with the foundation has a moral dimension. Has your thinking about the value of religion changed over the years?

The moral systems of religion, I think, are superimportant. We've raised our kids in a religious way; they've gone to the Catholic church that Melinda goes to and I participate in. I've been very lucky, and therefore I owe it to try and reduce the inequity in the world. And that's kind of a religious belief. I mean, it's at least a moral belief.

Do you believe in God?

I agree with people like Richard Dawkins that mankind felt the need for creation myths. Before we really began to understand disease and the weather and things like that, we sought false explanations for them. Now science has filled in some of the realm – not all – that religion used to fill. But the mystery and the beauty of the world is overwhelmingly amazing, and there's no scientific explanation of how it came about. To say that it was generated by random numbers, that does seem, you know, sort of an uncharitable view [laughs]. I think it makes sense to believe in God, but exactly what decision in your life you make differently because of it, I don't know.
Over on the Patheos Atheist Channel, Hemant Mehta documents the changing views of Mr. Gates over the years. It seems to me that a change is occurring, albeit in the mysterious way that the Holy Spirit works. Which is to say, not on anyone else's timetable but God's.
Certainly I'm not ignorant of the fact that Mr. & Mrs. Gates hold opinions, and take actions, that are contrary to Catholic teaching. But if I've learned anything during my own journey into the Church, it is that none of us are actually worthy to be included in her ranks. Before there was a Church, see, the Psalmist pointed that out,
Out of the depths I call to you, LORD;

Lord, hear my cry!
May your ears be attentive
to my cry for mercy.

If you, LORD, keep account of sins,
Lord, who can stand?

But with you is forgiveness
and so you are revered.
I don't know Bill & Melinda Gates personally. I don't know them or their children. But it seems to me that what I am called to do, in light of this information gleaned from an interview in
Rolling Stone
, is pray for them. Pray for their conversion as fervently as I pray for my own, and for that of my own family. To put aside the false gods of
eugenics
, and embrace the God who says,
I came so that they might have life and have it more abundantly.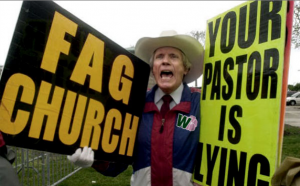 On to Fred Phelps. My Facebook page has been filled with folks talking about his imminent demise. Some seem to be happy about this turn of events, while a few seem merciful. What interests me about it is that one of his sons mentioned that he had been excommunicated from the congregation he started. From the Facebook page of Nathan Phelps, take a look,
I've learned that my father, Fred Phelps, Sr., pastor of the "God Hates Fags" Westboro Baptist Church, was ex-communicated from the "church" back in August of 2013. He is now on the edge of death at Midland Hospice house in Topeka, Kansas.

I'm not sure how I feel about this. Terribly ironic that his devotion to his god ends this way. Destroyed by the monster he made.

I feel sad for all the hurt he's caused so many. I feel sad for those who will lose the grandfather and father they loved. And I'm bitterly angry that my family is blocking the family members who left from seeing him, and saying their good-byes.
I admit that the first thing I thought upon reading that was , "a priest needs to visit that man. ASAP." I don't have it in my power to make such a thing happen, but I can at least pray for him. Certainly the church he started has engaged in some awful practices in the past. I wonder what made them throw him overboard? I'm going to err on the merciful side and go with the idea that he came to his senses, and opted to be merciful himself. Am I right, or am I wrong? I'm not going to worry about it. Instead, I'm going to,
…love your enemies, and pray for those who persecute you, that you may be children of your heavenly Father, for he makes his sun rise on the bad and the good, and causes rain to fall on the just and the unjust.

For if you love those who love you, what recompense will you have? Do not the tax collectors do the same? And if you greet your brothers only, what is unusual about that? Do not the pagans do the same?

So be perfect, just as your heavenly Father is perfect.
LORD knows, I've a long way to go on the  way of perfection. Lent is a good time for me to remember to keep slogging, keep praying, and not take my pack off.