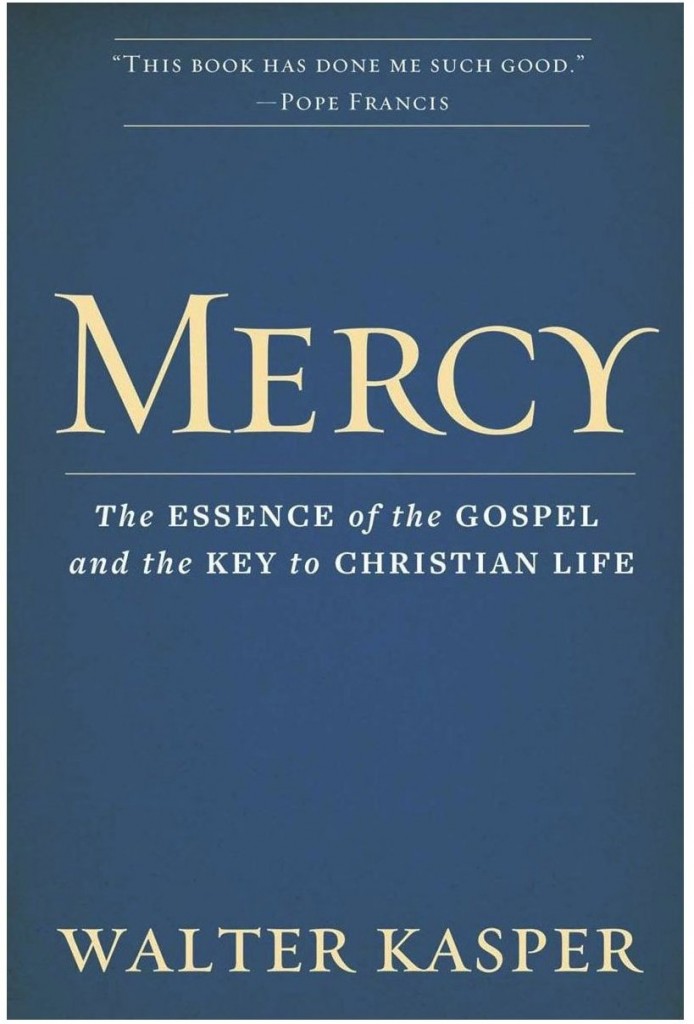 Some folks are likely to play the "Good Cleric/Bad Cleric" game with Cardinal Kasper's comments about our divorced and civilly remarried brethren, but I won't be. I'm just an regular guy, see, with no claims to knowing all the ins and outs of the theology of marriage.
I do know that Pope Francis has mentioned Cardinal Kasper's book , Mercy: The Essence of the Gospel and the Key to Christian Life
, favorably, going as far as to say, "This book has done me such good."
Below is a snippet of Cardinal Kasper's comments on this important matter given in an interview published in Commonweal this morning. Read them with an open mind, and an open heart.
CWL: When it comes to the issue of Communion for divorced and remarried Catholics, you have your critics, some of whom have found outlets in the Italian press. Cardinal Carlo Caffarra, archbishop of Bologna, was given a great deal of space in Il Foglio to criticize your proposal. He has one question for you: "What happens to the first marriage?"

Kasper: The first marriage is indissoluble because marriage is not only a promise between the two partners; it's God's promise too, and what God does is done for all time. Therefore the bond of marriage remains. Of course, Christians who leave their first marriage have failed. That's clear. The problem is when there is no way out of such a situation. If we look to God's activity in salvation history, we see that God gives his people a new chance. That's mercy. God's love does not end because a human being has failed—if he repents. God provides a new chance—not by cancelling the demands of justice: God does not justify the sin. But he justifies the sinner. Many of my critics do not understand that distinction. They think, well, we want to justify their sin. No, nobody wants that. But God justifies the sinner who converts. This distinction appears already in Augustine.

I do not deny that the bond of marriage remains. But the fathers of the church had a wonderful image: If there is a shipwreck, you don't get a new ship to save you, but you get a plank so that you can survive. That's the mercy of God—to give us a plank so we can survive. That's my approach to the problem. I respect those who have a different position, but on the other hand, they must see what the concrete situation is today. How can we help the people who struggle in these situations? I know such people—often women. They are very engaged in parish life; they do all they can for their children. I know a woman who prepared her daughter for First Communion. The parish priest said the girl can go to Holy Communion, but not mama. I told the pope about this, and he said, "No, that's impossible."

The second marriage, of course, is not a marriage in our Christian sense. And I would be against celebrating it in church. But there are elements of a marriage. I would compare this to the way the Catholic Church views other churches. The Catholic Church is the true church of Christ, but there are other churches that have elements of the true church, and we recognize those elements. In a similar way, we can say, the true marriage is the sacramental marriage. And the second is not a marriage in the same sense, but there are elements of it—the partners take care of one another, they are exclusively bound to one another, there is an intention of permanence, they care of children, they lead a life of prayer, and so on. It's not the best situation. It's the best possible situation. Realistically, we should respect such situations, as we do with Protestants. We recognize them as Christians. We pray with them.

CWL: And we know that they don't consider their marriages a Catholic sacrament—

Kasper: There are other problems. We consider the civil marriage of Protestants as valid, indissoluble marriages. They don't believe in the sacramentality. There are also internal problems in the current canon law. How do you explain this to a Protestant—"it's a valid marriage for you, but for a Catholic it's not"? So we should to some degree reconsider the canonical regulations.

CWL: Is it fair to say that your critics think this is a disagreement about the indissolubility of marriage, but you're saying that the disagreement, such as it is, is about the purpose of the sacraments of reconciliation and the Eucharist?

Kasper: In no way do I deny the indissolubility of a sacramental marriage. That would be stupid. We must enforce it, and help people to understand it and to live it out. That's a task for the church. But we must recognize that Christians can fail, and then we have to help them. To those who say, "Well, they are in a sinful situation," I would say: Pope Benedict XVI has already said that such Catholics can receive spiritual communion. Spiritual communion is to be one with Christ. But if I am one with Christ, I cannot be in a situation of grave sin. So if they can receive spiritual communion, why not also sacramental Communion? I think there are also problems in the traditional position, and Pope Benedict reflected a lot about this, and he said that they must have means of salvation and spiritual communion. But spiritual communion goes very far: it's being one with Christ. Why should these people be excluded from the other Communion? Being in spiritual communion with Christ means God has forgiven this person. So the church, though the sacrament of forgiveness, should also be able to forgive if God does it. Otherwise there is an opposition between God and church—and that would be a great problem.
I don't know about you, but I like learning about how our Orthodox brethren has handled this thorny issue. I also like how the Catholic Church brings depth of thought and the heart of Christ to the important questions that we face as a pilgrim people. The synod of bishops to discuss this, and other pastoral issues that effect families, meets this coming October.
"The church is a mother, and she must travel this path of mercy, and find a form of mercy for all." –Pope Francis
That reminds me of a song I like.