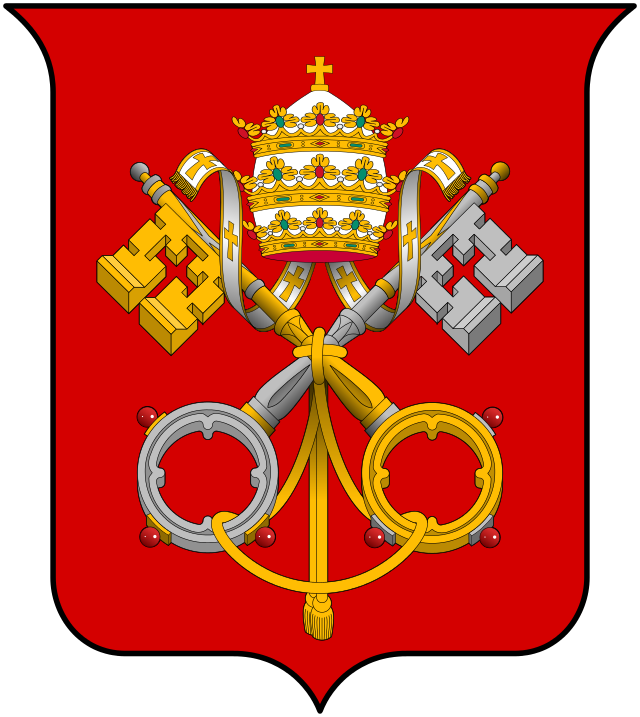 It's been a long time since I titled a post with that starts with the word "because." But given what is happening on the world stage these days, especially across that swath of territory in the Middle East, where an ersatz caliphate is trying to establish itself, the fact that the Catholic Church has a diplomatic corps sets her apart.
All Christians are diplomats, if we are to take St. Paul's inspired words that "we are ambassadors for Christ" as being true. But the Holy See, long stripped of the temporal means to impact world affairs via force of arms, has continued to engage the principalities and powers of the world with thoughts and ideas. Ideas on what it means to be fully human. Thoughts on what justice actually looks like, etc.
Diplomats from the Holy See have the mission to promote an integral and solidary humanism with the nations, and supranational organizations, of the world. At last count, diplomatic relation have been established with 180 countries, as well as having membership (or observer) status with the United Nations, the European Union, and the Arab League, et al. For a complete list, head over to Wikipedia. So when the Church address events that are happening in the world, like the genocide occurring in Iraq and Syria, in this manner,
The whole world has witnessed with incredulity what is now called the "Restoration of the Caliphate," which had been abolished on October 29,1923 by Kamal Ataturk, founder of modern Turkey. Opposition to this "restoration" by the majority of religious institutions and Muslim politicians has not prevented the "Islamic State" jihadists from committing and continuing to commit unspeakable criminal acts.

This Pontifical Council, together with all those engaged in interreligious dialogue, followers of all religions, and all men and women of good will, can only unambiguously denounce and condemn these practices which bring shame on humanity:

This Pontifical Council, together with all those engaged in interreligious dialogue, followers of all religions, and all men and women of good will, can only unambiguously denounce and condemn these practices which bring shame on humanity:

-the massacre of people on the sole basis of their religious affiliation;

-the despicable practice of beheading, crucifying and hanging bodies in public places;

-the choice imposed on Christians and Yezidis between conversion to Islam, payment of a tax (jizya) or forced exile;

-the forced expulsion of tens of thousands of people, including children, elderly, pregnant women and the sick;

-the abduction of girls and women belonging to the Yezidi and Christian communities as spoils of war (sabaya);

-the imposition of the barbaric practice of infibulation;

-the destruction of places of worship and Christian and Muslim burial places;

-the forced occupation or desecration of churches and monasteries;

-the removal of crucifixes and other Christian religious symbols as well as those of other

religious communities;

-the destruction of a priceless Christian religious and cultural heritage;

-indiscriminate violence aimed at terrorizing people to force them to surrender or flee.

No cause, and certainly no religion, can justify such barbarity.
…you can take it to the bank that this is what the diplomats of the Holy See are saying to world governments as well.
But Frank! Without an army to combat the insert the name of the evil menace of the day here from happening, what good is it? This is a colossal waste of time!
No, it isn't. I mean, remember a few weeks back when Meriam Ibrahim was blessed by Pope Francis? The Holy See's diplomatic corps had a lot to do with her being able to leave Sudan alive.
In fact, the deep, nuanced, thinking of the Catholic Church on what it means to be human, to live in peace, to live in community with all mankind, is pretty much at the top of the list of the most important things to be saying (and doing) in a world without hope, a world where might makes right, a world where disordered appetites ruin the lives of many, and where war is waged against truth, goodness, and beauty.
Edward Petin, writing in the journal Diplomat, explains.
What really singles the Holy See out, in this context, is its access to a vast network of missionaries, prelates and lay Catholics throughout the world, making it a valuable global 'listening post'. As a result, Vatican diplomats are themselves very well informed and in a unique position to mediate disputes, prevent conflicts and ultimately save lives. Usually these achievements take place behind closed doors and rarely make the headlines. Even within the Church, few know, for example, that in 1978 the Holy See diplomats, led by John Paul II, prevented the 'Beagle conflict' – a border dispute between Argentina and Chile over three small islands at the tip of South America – from escalating into war.

Likewise, little is known about Archbishop Pablo Puente Buces, a former apostolic nuncio, and his significant role in bringing an end to the 1975-1990 Lebanese civil war by reaching out to various militia groups and heads of Islamic political parties. Similar peace efforts were made by other Holy See diplomats in Eastern Congo and Mozambique. Most recently, the papal nuncio to Haiti, Archbishop Bernardito Auza, has played a vital role in marshalling resources after the country was hit by a catastrophic earthquake.

Often the Pope's ambassadors – who number about 100 worldwide – put their own lives at risk in the course of their work. The apostolic nuncio to Burundi, Archbishop Michael Courtney, was gunned down in 2003 after campaigning for peace in the troubled country; and similar heroism was shown by Archbishop Fernando Filoni, apostolic nuncio in Baghdad during the Iraq War, who remained in his post throughout the hostilities.

Such readiness for personal self-sacrifice derives from a Vatican diplomat's training. Schooled at the Ecclesiastical Academy, the Holy See's ancient college for diplomats, candidates are taught to be priests first and diplomats second, which instills in them a sense of serving not just the interests of the Vatican but of their flocks – and ultimately the world as a whole.

A Holy See diplomat is also trained to be discreet. Pope John XXIII, apostolic nuncio to France during the Second World War, believed that a papal ambassador should always be 'obedient and silent…always self-effacing and remain in the shadow.'

'To know how to obey, to know how to be quiet, to speak when necessary, with measured words and with reserve, that is the role of the diplomat of the Holy See, and it is also that of Saint Joseph,' he said.

The effectiveness of Holy See diplomacy can also be attributed to the fact that it represents both a sovereign state and a faith with privileged status, vital in this age of heightened religious sensitivity, as an interlocutor with the two other Abrahamic faiths, Judaism and Islam.
Archbishop Filoni, mentioned above, is back in Iraq right now. May his mission there bear the fruits of lasting peace.
So, the fact that the Catholic Church has a diplomatic arm, actively engaged in meeting the world where it is, while bringing the radical thoughts of the gospel to the world's stage, is a reason why I am Catholic? Absolutely.
Related Pope to UN: "I place before you the tears, the heartfelt cries of despair of Christians and religious minorities of the beloved land of Iraq."