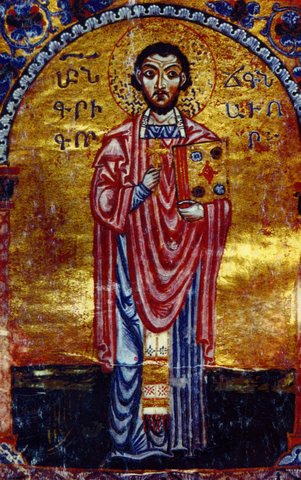 A few days ago, Pope Francis declared St. Gregory of Narek our newest Doctor of the Church. It appears that Grigor Narekatsi is a man of many talents. The hastily compiled list of his accomplishments on Wikipedia includes,
"monk, poet, mystical philosopher, theologian and saint of the Armenian Apostolic Church, born into a family of writers."
From what I gather, he composed some very beautiful prayers that I look forward to pondering as a part of the Lenten triumvirate of prayer, fasting, and almsgiving.
As another Doctor of the Church makes clear, you really can't have any one of those things separate from the others. It would be like having a one legged stool.
Thankfully, Thomas J. Samuelian, with stylistic help from Diana Der Hovanessian, has translated St. Gregory's book of prayers, which the saint called The Book Of Lamentations. What follows is an example of the first lines of what he called his "mystic soliloquies with God."
Prayer 1

Speaking with God from the Depths of the Heart

A

The voice of a sighing heart, its sobs and mournful cries,
I offer up to you, O Seer of Secrets,
placing the fruits of my wavering mind
as a savory sacrifice on the fire of my grieving soul
to be delivered to you in the censer of my will.

Compassionate Lord, breathe in
this offering and look more favorably on it
than upon a more sumptuous sacrifice
offered with rich smoke. Please find
this simple string of words acceptable.
Do not turn in disdain.

May this unsolicited gift reach you,
this sacrifice of words
from the deep mystery-filled chamber
of my feelings, consumed in flames
fueled by whatever grace I may have within me.

As I pray, do not let these
pleas annoy you, Almighty,
like the raised hands of Jacob,
whose irreverence was rebuked
by Isaiah, nor let them seem like the impudence
of Babylon criticized in the 72nd Psalm.

But let these words be acceptable
as were the fragrant offerings
in the tabernacle at Shiloh9
raised again by David on his return from captivity
as the resting place for the ark of the covenant,
a symbol for the restoration of my lost soul.
Read the rest of this prayer, and the other 94 soliloquies, at the website where Dr. Samuelian hosts his translation of this exquisite work of devotion.
UPDATE
Dr. Samuelian has sent me the following information on how to obtain a copy of Speaking to God From The Depths Of The Heart in all the usual formats. Be advised, however, that your best bet to obtain a copy is through the Kindle format, as the hard cover book is out of stock, or out of print. An Amazon reseller does have one copy available for $450, The Armenian Prayerbook of St. Gregory of Narek
.
Kindle format: The Armenian Prayerbook of St. Gregory of Narek