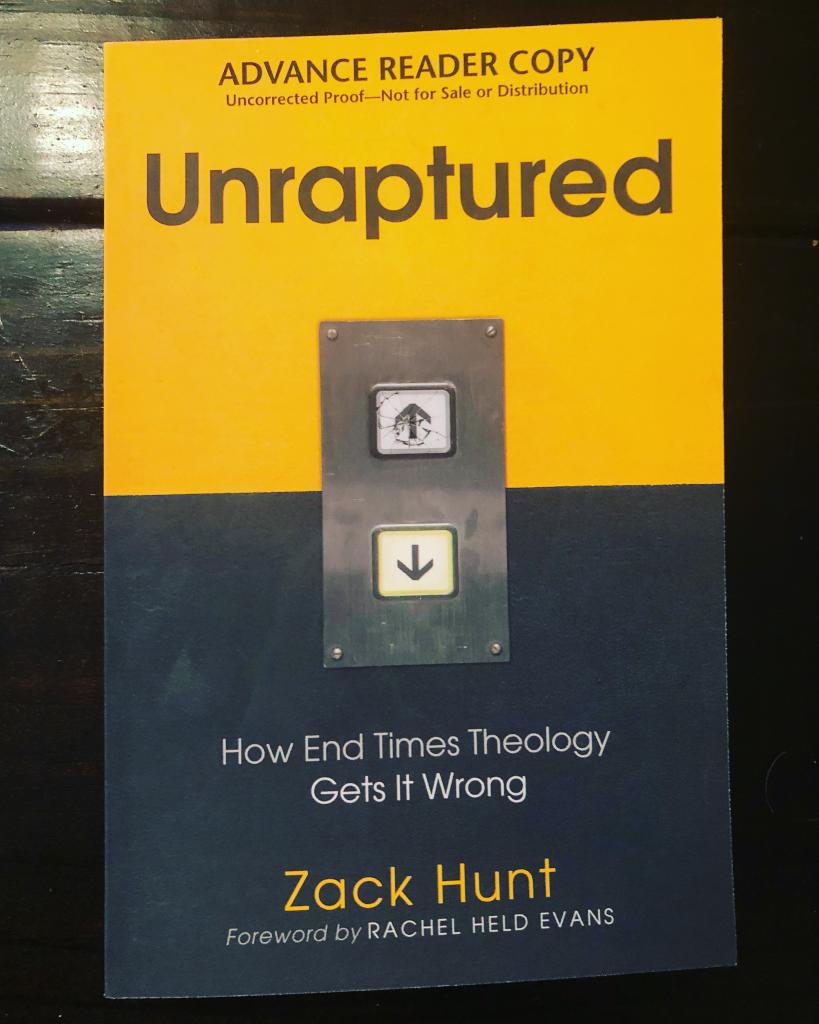 No, that headline isn't click bait.
I mean, I chose those specific words because I wanted you to click on the link, but I really am offering you a chance to grab a free copy of my upcoming book Unraptured.
Even better?
I'm offering you a chance at a free copy before it's released. Meaning you don't have to wait until it comes out March 19th. You can read it now before anybody else. Which, you know, I'm kinda biased, but I think is pretty cool.
Here's the thing though: I need your help.
This might come as a shock, but my platform is slightly smaller than Oprah's.
I know it sounds crazy, but I do not possess the Oprah-like gravitas to simply write a book, sit back, relax, and enjoy the ride to the top of the best sellers list.
That's not to say there isn't any momentum behind the book.
As you can already see from the cover, my friend Rachel Held Evans was kind enough to write a wonderful forward to the book, I've gotten several early endorsements in from folks like Jonathan Merritt, Matthew Paul Turner, Cindy Brandt, Carlos Rodriguez, and my dear friend, the brilliant and hilarious funeral director Caleb Wilde (who I may be kissing up to because I may or may not but definitely did mail him a 17lb bag of loose change).
I even got a coveted review in Publisher's Weekly which called my book "piquant" and me "a new voice in Progressive Christianity."
But I still need your help if I'm going to sell books to people who aren't members of my immediate family. If you're a blogger, a book reviewer, a podcaster, or just someone with a social media account that likes helping out strangers on the internet, I need your help getting the word out about my book.
But I'm not asking for your help and offering nothing in return. No, dear friend, I come bearing many fabulous prizes.
Ok, maybe not so much "fabulous prizes" as freebies, but freebies are like pizza. Even when they're not amazing, they're still at least a little fabulous cause they're free.
So what am I offering?
Well, dear friend, if you become a member of the Unraptured Book launch team, you'll get a free copy of my book before it's released to the public
You'll also get membership in a private Facebook group run by yours truly that will give you exclusive direct access to me and a peek behind the curtain at everything I'm doing for the book launch, including early access to a video series I'm putting together for the book, and sneak peeks at any and all marketing schtuff I have before anybody gets to see it.
You'll also be invited to a members only Facebook Live Q & A with me on launch day, March 19th, where you can ask me, well, just about anything – including the story of that 17lb bag of loose change.
Oh, and I'll even show you how you – yes you – can make money helping me sell my book. For reals. And I promise it's neither a pyramid scheme nor something you have to sell to your family members or your college roommate that you've gone out of your to avoid talking to for the past 10 years.
You'll also get my undying gratitude and anything else I can think of along the way that might convince you to help me promote my book.
Please know: you definitely don't need a big platform or anything close to one to join the team. I'm just looking for folks who are willing to help write a review on their blog and/or Amazon, share book news/updates on social media, that sort of thing. The more people we have the merrier!!
If book launch teams aren't your thing, but you still want a free book, no worries. I've got several other chances for you to win a free copy of my book including American Jesus Madness which will give you not one, but three chances to win a copy of Unraptured.
Stay tuned for more details on all of that, but in the meantime, if you are interested in joining my book launch team click this link and fill out the super short application.
Just make sure you get your application in by midnight SUNDAY, FEBRUARY 3rd.
If you've been selected as a member of the Unraptured Book Launch Team, I'll let you know the following day, Monday, February 4th.
Here's the link one more time for good measure…