Occasionally, a story breaks that illustrates just how utterly backward we are as a society when it comes to standing up for those who can't stand up for themselves. Here's such a story:
A meant to be warm-and-fuzzy piece on The New York Times' "Weddings/Celebrations" website describes how Miami Heat's team captain Udonis Haslem and his new wife, Faith Rein, fell in love, in part, while overcoming a tremendous challenge together. What was the challenge, you may ask. A forest fire? A flood? A home robbery? Nope…something much more terrifying: a baby.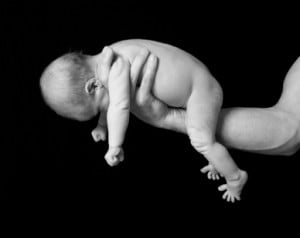 Here's how reporter Linda Marx describes the pregnancy:
"Their first challenge took place the following spring when [Ms. Rein] became pregnant. It was her junior and his senior year… Despite the pregnancy, she was busy with track meets and helping [Udonis] complete his homework. The timing was bad."
I realize that an unplanned pregnancy can rock a couple's world, but really…to call an abortion a "challenge," implying that taking a child's life became this couple's love-defining ordeal…that's irresponsible journalism. The only thing more tragic than Marx's reporting is the attitude this couple had toward this "baby" (Udonis's word, by the way). Udonis told Linda Marx, "I am not a huge fan of abortion, but we both had sports careers, plus we could not financially handle a baby."
"…a baby." Oh, the unimaginable stress.
But we all know that stress, if handled in the right way, can bring us closer together. Apparently that's what the unwanted pregnancy did for this couple. Rein reported, "Udonis appreciated that I was willing to have an abortion. I found him caring, supportive, nurturing and all over me to be sure I was O.K. I saw another side of him during that difficult time and fell deeply in love. He had a big heart and was the whole package."
"A big heart?" "The whole package?"
What kind of society says that a man has "a big heart" because he approves of the death of a child? What kind of society describes this man as "the whole package?"
The same society that calls a baby a "challenge."
(Quotes above taken directly from "Taking Their Very Sweet Time" – The New York Times Weddings/Celebrations)